Browsing articles tagged with " John Denver"
The last few weeks might go down in history as one of country music's most feud-laden moments. From Gary Allan going off about country music and indirectly accusing Taylor Swift and Carrie Underwood of not being country, to Zac Brown calling out Luke Bryan's song "That's My Kind of Night," and Jason Aldean calling out Zac Brown in Luke's defense.
Though country music feuding may be on a sharp rise here recently, it is not an uncommon or recent occurrence in country music by any stretch. Many artists have had a beef with the Grand Ole Opry over the years, including Johnny Cash and Stonewall Jackson. Curb Records has been in the middle of many feuds, most notably with Leann Rimes, Hank Williams III, and a big one with Tim McGraw that pitted cross-town heavyweights Mike Curb and Scott Borchetta against each other. But nothing gets folks talking like a good old artist on artist donnybrook. Here are some of the most infamous over the years.
Dolly Parton vs. Porter Wagoner
Dolly Parton and Porter Wagoner were one of country music's most legendary pairings, but when Dolly wanted to leave the Porter Wagoner camp in 1974, things turned heated. Parton did the best she could to leave Porter's side in an amicable way, even penning and performing her legendary song "I Will Always Love You" for her long-time singing partner. But Porter turned around and sued her for $3 million in a breach of contract suit in 1979.
However, the two made up eventually, and Porter performed with Dolly on her TV variety show in 1988. Dolly Parton was also by Porter Wagoner's side when he passed away in 2007.
Travis Tritt vs. Billy Ray Cyrus
In the midst of Billy Ray Cyrus's "Achy Breaky Heart" success, Travis Tritt was asked what he though about it, and always willing to be a lightning rod, Travis Tritt responded, "I haven't seen his show so I can't say anything about that. I haven't seen the man personally, so I can't say anything about him personally. I haven't listened to his albums, so I can't make a statement about that. But I have seen the video and I have heard "Achy Breaky Heart", and I don't care for either one of them. It just seems kind of frivolous. The video doesn't appeal to me because it shows him stepping out of a limousine in front of thousands and thousands of fans, and nobody's even heard of this guy.. Garth Brooks didn't even do that. It doesn't seem very realistic to me."
Travis Tritt recalled in his autobiography Ten Feet Tall and Bulletproof, "I apologized to Billy Ray, told him I hoped he sold ten million copies of the record. Went home. I sent Billy Ray a peace lily and a get well card because I heard he'd been feeling bad enough to cancel his Fan Fair appearance. Headline in the local paper the next day. 'Travis Tritt Trashes Billy Ray Cyrus.' The more I said about it, trying to rectify the situation, the worse it got."
Waylon Jennings vs. Garth Brooks
Waylon Jennings really didn't like Garth Brooks, and wasn't very good at hiding it. Though in the portions about Garth in Waylon's autobiography he was careful not to use Garth's name, during interviews in the 90′s Waylon would regularly let his anti-Garth anger slip. For example in an interview with The Inquirer form September, 1994, Waylon said about Garth, "I think he's the luckiest s.o.b in the world. He's gotten more out of nothing than anybody I can think of. I've always accused him of sounding like Mr. Haney on Green Acres."
There's another Waylon quote about Garth that goes something along the lines of "Garth Brooks did for country music what panty hose did for finger fucking." But there has yet to be a verifiable attribution of the quote.
Waylon Jennings vs. Tompall Glaser
Still to this day, not much is known about the exact details of the feud between these two men, but in the mid-70′s you couldn't find two artists more tied to the hip than Waylon and Tompall. Tompall was the proprietor of Hillbilly Central in Nashville—a renegade studio where Waylon mixed and mastered his album Honky Tonk Heroes, and recorded his album This Time. Waylon and Tompall appear together on Wanted: The Outlaws—country music's first million-selling album. The two became close friends and were kindred spirits from their hated of Music Row's business practices. They would spin long hours battling each other on pinball machines or picking out tunes or playing pranks on each other. But when the friendship went south in the late 70′s, it went south hard, and the two men never resolved their differences before their respective deaths, despite both men still insisting on their deep love and appreciation for each other.
Hank Williams III vs. Shooter Jennings
The crux of the beef between two of country music's most famous sons is that Hank3 felt Shooter Jennings stole his persona. Hank3 had a song called "Dick In Dixie" that included the line, "I'm here to put the Dick in Dixie, and the cunt back in country." Shooter, who previously had been in a rock band called Stargunn, came out with his first country record entitled Put The 'O' Back In Country in 2005, and Hank3 perceived the title was a little too close for comfort.
If you wanna go down that road and rip us off, mutherfucker, I'll see you in ten years and five thousand shows down the road." Hank3 said. We'll see where the fuck you're at. You know, I called him out and just flat out said, "fuck you if you're gonna rip us off like that on your first release."

Shooter for his part seemed unwilling to reciprocate the feud, saying "You know what, I don't even comment on these things, really. I don't even know him. I met him once, I think, for a second. And somehow all this stuff started about how he hates me. I don't know. It's, like, stupid."
In fairness to Shooter, Carlene Carter had used the line "If that doesn't put the cunt back in country, I don't know what will" at a show in New York in 1979 when her mother June Carter and father-in-law Johnny Cash were in attendance. Eventually Shooter and Hank3 reportedly buried the hatchet.
(Read more about Shooter vs. Shelton)
Hank Williams III vs. Kid Rock
Hank3 is the legitimate son of Hank Williams Jr., but Hank Jr. was not Hank3′s everyday father. Hank3 was raised by his mother, and usually only saw Hank Jr. once a year when growing up. In 2001, Hank Jr. began collaborating with Kid Rock in songs like "The 'F' Word" and others, and Hank Jr. often referred to Kid Rock as his "rebel son." This stimulated a rumor that Kid Rock was in fact Hank Jr.'s biological offspring. Though both men denied it, the urban myth grew legs, and Hank Williams III began to be asked by people if Kid Rock was his brother, which didn't sit too well.
Then the situation escalated when Kid Rock accosted Hank3 at a show in Detroit, trying to patch up the strained relationship between Hank3 and his father. "He kept trying to come on the bus, you know, him and Pam Anderson, and all that shit," Hank3 recalls. "And I said, 'Tell that motherfucker I got nothing to say to him,' and then he finally get his way back in there and tells me how I need to be treating my father, and I'm like, 'All right, you crossed the line motherfucker.' And I don't know how many times I have to say it: No, he's not my fucking brother . . ."
The altercation eventually led to the line in Hank3′s song "Not Everybody Likes Us," "Just so you know, so it's set in stone, Kid Rock don't come from where I come from. Yeah it's true he's a Yank, he ain't no son of Hank, and if you though so god damn you're fucking dumb."
Charlie Rich vs. John Denver
It is considered one of country music's most legendary moments—when Charlie Rich took out his lighter at the 1975 CMA Awards and burned the envelope announcing John Denver as Entertainer of the Year while Denver watched via satellite. Rich had clearly been drinking, and his antics were taken as an act of defiance against the intrusion of pop influences into country music, and have since become a rallying cry for country music purists.
Recently when video surfaced of the incident, people began to question what Charlie Rich's true intentions were because Rich didn't appear to look as malicious as the moment had been materialized in many people's minds without the aid of the archived footage. Though historians and the Country Music Hall of Fame clearly spell it out as being considered a conflict at the time, Charlie's son Charlie Rich Jr. says that his father was simply trying to be funny. So maybe there was a Charlie Rich vs. John Denver, or maybe there wasn't, but the moment still makes for great country music lore.
Toby Keith vs. Natalie Maines
Probably not much more than the names of these two needs to be said to to infer that they wouldn't get along. Maines started the scuffle in response to Toby Keith's song "Courtesy of the Red, White, & Blue" saying, "I hate it. It's ignorant, and it makes country music sound ignorant. It targets an entire culture—and not just the bad people who did bad things. You've got to have some tact. Anybody can write, 'We'll put a boot in your ass' … "
Toby Keith's response? "I'll bury her. She has never written anything that has been a hit…" Maines kept up the heat, wearing a shirt with the letters F.U.T.K. on the 2003 ACM Awards. And of course, all of this was exacerbated when Maines criticized President George Bush at a concert in London a month before.
Keith was the one to publicly bury the hatchet, saying in August of 2003, "You know, a best friend of mine lost a two-year-old daughter to cancer. I saw a picture of me and Natalie and it said, 'Fight to the Death' or something. It seemed so insignificant. I said, 'Enough is enough' People try to make everything black and white. I didn't start this battle. They started it with me; they came out and just tore me up. One thing I've never, ever done, out of jealousy or anything else, is to bash another artist and their artistic license."
Toby Keith vs. Kris Kristofferson
It sure made for a juicy story at the time, but according to both of the named belligerents, it was a feud that never was. In April of 2009, actor Ethan Hawke published a story in Rolling Stone that without naming his name, accused Toby Keith of saying to Kris Kristofferson at Willie Nelson's 70th birthday in 2003, ""None of that lefty shit out there tonight, Kris." According to Hawke, a rolling argument ensued that ended with Kris Kristofferson saying, ""They're doin' to country music what pantyhose did to finger-fuckin'" (see Waylon Jennings vs. Garth Brooks above.)
However, according to both Toby Keith and Kris Kristofferson, the incident never happened. Even more damming to Ethan Hawke and Rolling Stone, though Toby Keith became famous from his flag-waving songs, he's a registered Democrat, making the likelihood Kieth saying to Kristofferson "lefty shit" very unlikely. Ethan Hawke and Rolling Stone stood by their story, but the press who perpetuated it got an earful from Toby about it at the 2009 ACM Awards.

Jason Isbell vs. Dierks Bentley
Feuds that involve accusations of songs getting ripped off can get especially nasty, and this was the case when Jason Isbell took to Twitter to accuse Dierks Bentley of ripping off his song "In A Razor Town." "'Dierks' has officially ripped off my song 'In A Razor Town.'" Isbell fired off. "Dierks is a douchebag. The song of Dierks is called 'Home.'"  Isbell continued to pummel Dierks through Twitter, even getting political because of the flag waving nature of "Home." Dierks in his defense referred to an interview one of the song's co-writers Dan Wilson did with ASCAP that explained how the song came together.

The result? Though Isbell went silent after he said he was told to do so by his lawyer, if there was ever litigation over the song, the results were never made public. Isbell has since in interviews blamed his heavy drinking at the time for his Twitter tone. Though the two songs do sound similar, whether it was truly a ripoff or not seems to remain inconclusive.
Robert Earl Keen vs. Toby Keith
Robert Earl Keen put Toby Keith in his crosshairs when he believed Keith lifted the melody from his song "The Road Goes On Forever" for his 2010 song "Bullets In The Gun." Keen recalls, "I got all these calls from my friends. They were saying, 'This is ridiculous. What are you gonna do? I felt like this individual had been picking on me for a long time, and I was sick of it. So instead of getting really ugly about things—I don't really believe in lawsuits or threats—I took the Alexander Pope road and answered this guy in song."
Keen recorded "The Road Goes On And On" as a shot at Toby Keith (though he never mentions his name), with lines that included:
You're a regular jack in the box
In your clown suit and your goldilocks
The original liar's paradox
Your horse is drunk and your friends got tired
Your aim grew weak and uninspired . . .
Toby Keith has never formally responded to the accusations.
Blake Shelton and Miranda Lambert vs. Eric Church
This battle of heavyweights ensued when Eric Church was quoted in Rolling Stone in late April of 2012 saying, "Honestly, if Blake Shelton and Cee Lo Green turn around in a red chair, you got a deal? That's crazy. I don't know what would make an art­ist do that. You're not an artist. Once your career becomes about some­thing other than the music, then that's what it is. I'll never make that mistake. I don't care if I starve."
Miranda Lambert, who is married to Blake Shelton and also has a reality show past, came out swinging, saying through Twitter, "I wish I misunderstood this . . .Thanks Eric Church for saying I'm not a real artist. You're welcome for the tour in 2010," referencing Church's opening spot on one of her tours.
Eventually Eric Church apologized, saying, "The comment I made to Rolling Stone was part of a larger commentary on these types of reality television shows and the perception they create, not the artists involved with the shows themselves. The shows make it appear that artists can shortcut their way to success… I have a problem with those perceived shortcuts, not just in the music industry…I have a lot of respect for what artists like Carrie Underwood, Kelly Clarkson, and my friend Miranda Lambert have gone on to accomplish. This piece was never intended to tear down any individual and I apologize to anybody I offended in trying to shed light on this issue."
As some have pointed out since, Eric Church apologized to Miranda, but never apologized to Blake.
- – - – - – - – - – - – -
Eric Church also created a firestorm with Rascal Flatts in 2006. While playing in an opening slot, he purposely played too loud and for too long after numerous requests to respect the tour's wishes, resulting in him being kicked off the tour. It also resulted in a young starlet named Taylor Swift getting a chance to open on the big tour, which many experts give credit for helping Taylor's meteoric rise.

Blake Shelton vs. Ray Price
When Blake Shelton's comments about how he considered country music's traditional fans "Old Farts and Jackasses" came out, Country Music Hall of Famer Ray Price shot back, saying, "Every now and then some young artist will record a rock and roll type song , have a hit first time out with kids only. This is why you see stars come with a few hits only and then just fade away believing they are God's answer to the world. This guy sounds like in his own mind that his head is so large no hat ever made will fit him. Stupidity Reigns Supreme!!!!!!! Ray Price (CHIEF "OLD FART" & JACKASS") " P.S. YOU SHOULD BE SO LUCKY AS US OLD-TIMERS. CHECK BACK IN 63 YEARS (THE YEAR 2075) AND LET US KNOW HOW YOUR NAME AND YOUR MUSIC WILL BE REMEMBERED."
Blake Shelton later apologized, saying, "Whoa!!! I heard I offended one of my all time favorite artists Ray Price by my statement "Nobody wants to listen to their grandpas music"..And probably some other things from that same interview on GAC Backstory.. I hate that I upset him.. The truth is my statement was and STILL Is about how we as the new generation of country artists have to keep re-inventing country music to keep it popular. Just EXACTLY… The way Mr. Price did along hid journey as a main stream country artist.. Pushing the boundaries with his records. "For The Goodtimes" Perfect example with the introduction of a bigger orchestrated sound in country music.. It was new and awesome!!! I absolutely have no doubt I could have worded it better(as always ha!) and I apologize to Mr. Price and any other heroes of mine that it may offended."
Ray also later apologized to Blake Shelton for being so harsh, and along with wife Miranda Lambert, they attended a Ray Price show in Oklahoma to patch things up in person.
On August 15th, the plans for the upcoming Outlaw Country Music Hall of Fame and an accompanying Outlaw Music Association were made public. 5,000 sq. ft. of space has been allocated for the new Hall of Fame in Lynchburg, TN, and a Board of Directors has been formed that includes Jeremy Tepper of SiriusXM, Terry Jennings of Korban Music Group, author of Outlaws Still At Large Neil Hamilton, Joe Swank at Bloodshot Records, mayor of Lynchburg Sloane Stewart, Professor of Entertainment Law David Spangenburg, architect Thomas Bartoo, and CEO of Sol Records Brian DeBruler.
The announcement stimulated a lot of speculation about what direction the upcoming Hall of Fame would take, but not many serious answers. So Saving Country Music reached out to Gary "Sarge" Sargeant, the spearhead of the Outlaw Country Hall of Fame, to try and clear up many questions about what folks can expect from the upcoming institution.
Sarge is also putting on a charity event coming up October 25-27 for Troy Rector who suffered a debilitating medical accident. The event will be at Chopper Hill in Altamont, TN (More information). The inaugural class of inductees to the Outlaw Hall of Fame will be announced during the event.
You can listen to the entire interview below. For those who prefer a written form, the meat of the interview is transcribed below as well.
Audio clip: Adobe Flash Player (version 9 or above) is required to play this audio clip. Download the latest version here. You also need to have JavaScript enabled in your browser.
---
Trigger: Who is Gary Sargeant, and what motivated him to start an Outlaw Country Music Hall of Fame?
Gary Sargeant: I'm a lifelong fan, 55 years old, of Outlaw music, independent artists and labels, and just firmly believe in people who stay true to themselves and their music, and don't compromise. It all started at a David Allan Coe benefit that I attended back in June. He was in an accident and wasn't able to tour. I was kind of upset that David Allan Coe required a benefit. That at 73, he had to tour just to pay his bills because back in the day, things happened and he doesn't own his catalog. And I was trying to think of a way we could support legends, and recognize people like David, or any number of people that have contributed so much to this music, and have never compromised. I wanted to make sure we had a place to recognize those folks who will never get recognized by anybody else, and then also be able to support today's Outlaws—the Pete Berwick's, the Gurf Morlix's. Its time has come, and we're going to do this.
When you announced the Outlaw Country Music Hall of Fame, you included a Board of Directors. Why have a Board of Directors?
Well, again it goes back to me being just a fan. I'm a fan with an idea. But I knew if we were going to do this and be taken seriously, and if it was going to be successful, I needed to put together a group of industry professionals.
The term "Outlaw" has already been taken by Music Row and used for marketing purposes. It's safe to say that there's music consumers out there that think Outlaw means Justin Moore, Eric Church, and others. How do you distinguish yourself from Music Row's version of Outlaws when Music Row's reach is so vast?
Nashville can tell somebody to dress in black jeans, grow a five day stubble, put on these boots, act all bad boy. That doesn't make you Outlaw. Outlaw to me is not a genre of music. Outlaw is an attitude. Outlaw is a refusal to compromise your music or your beliefs in order to make a dollar. It is traveling up and down the roads, thousands of miles a year, traveling 500 miles to play a $150 show. True Outlaws are doing it for the love of the music only. I believe there's going to be a lot of defections from Nashville music once the Outlaw Music Association and Hall of Fame are established and up and running. The definition of Outlaw should be made by those that are truly Outlaw, not some publicist sitting in an ivory tower in Nashville thinking that this will sell records.
Some may say the term Outlaw is outmoded because Nashville is taking it and using it with very prominent artists like Justin Moore—that the term doesn't hold the same sway or meaning it once did. Are you saying that term needs to be fought for?
I'm saying it needs to be clearly defined. Of course Nashville is going to try and take anything successful and try to co-opt it. But them jumping on the bandwagon doesn't make them independent artists. They're playing to a formula. But the formula doesn't work. Listen to the stuff coming out of Nashville.
How do you feel about Dale Watson's Ameripolitan movement, and how does it fit in your plans for the Outlaw Music Association? Will there be overlap? Could there be potential conflict? Is it splitting the independent-minded or Outlaw populous of country music into two segments?
I wouldn't think so. My hope would be that people going in that direction, because that's very narrowly focused right now, I hope they would go, "Hold on a second, here's something that has come along, that is exactly what we're trying to do, but encompasses even more people, and hopefully is a very inviting and open Association." Because I believe if we start putting restrictions on who is going to be in it, then we're no better than the CMA or anybody else. Great music is great music, whether it be Texas Swing, or Southern rock country, or traditional country. If you're an artist and you believe in what you're doing, and you're good at what you do, we're going to give you all the support in the world, whether it be Dale Watson, or Shooter Jennings who can go off in different tangents and experiment with different music, or Hank3 who is so excellent. There's so many artist out there that don't have a place to call home, and that's what the Outlaw Music Association is gonna be. It's gonna be a place where independent labels and artists can receive support, promotion, and have a place they can call home and feel welcomed for who they are instead of something somebody else wants them to be.
We've seen in the past, for example with Shooter Jennings' "XXX" movement and Dale Watson's Ameripolitan movement, there's been a lot of conflict and dissension with these attempts to unify the music behind a common purpose. I think that may be what is at the root of some fear and concern of what the Outlaw Music Association and Outlaw Country Music Hall of Fame will become. There's a history of trying to find a uniting element apart from the CMA in the history of country music. Back in the 70′s there was "ACE" that was set up after Olivia Newton-John and John Denver had won CMA Awards. Traditional country artists met at the house of George Jones and Tammy Wynette and tried to form a new thing. The Academy of Country Music was set up because West Coast entertainers felt like the CMA was bias against California country artists. ACE never really took off, and the ACM just became a doppelganger of the CMA….
…and you forgot to mention the AMA, the Americana Music Association.
Sure, which I personally have said in the past is very narrow in focus, even though a lot of the artists they help promote are great artists.
I couldn't agree with you more. To me, there is an extreme hunger and thirst out there to have an alternative to what's being pushed down everybody's throats by Nashville, the record labels, and the conglomerate of radio stations that are out there. Our focus is not narrow. I don't care if it's Dale Watson, or Hellbound Glory, or Jamey Johnson, it doesn't matter. There's a whole group of artists out there that deserve to be supported. We are not going to impose conditions. If you're talented, and your music speaks for itself, and your music speaks to fans, our goal is to make sure that we support you. We're not guaranteeing success for anybody. But we're not going to say, "You're not worthy." Everybody's worthy if they're a musician, and they work hard, they write their own music and stay true to it, and they have some fans and are successful, we're going to make sure they have an opportunity to be even more successful. We are a non-profit. Our proceeds go to supporting the legends, and also supporting the independent artists of today.
The narrowing of perspective seems to be a really big challenge of independent music right now, whether it is with the Americana Music Association, or just these little scenes that have popped up in independent music. How do you insulate yourself from that trend?
Technology is changing by leaps and bounds every month, let alone every year. The money to be made in today's world is through touring…touring and merchandise. So we are going to support tours. As a non-profit—it's kind of being dubbed the Outlaw iTunes—where independent artists can upload their music, and we will turn around and allow it to be downloaded for 99 cents a download, and we give all of it back to the artists while not taking 63 cents. We will be asking for a small donation that will go back to the legends. Technology is changing so quickly, and we have some very good people who are up to speed on today's technology and the future of music distribution. Those are the areas we want to educate independent artists and labels on, and assist them in giving them an outlet to distribute their music, and use the Hall of Fame to support tours, and get [artists] out in front of the people. Are we going to be the savior? Hell no. But are we going to do everything that we can to help these folks who are working so hard and believe in what they're doing? Yes, we're going to do everything we can. Is it guaranteeing success? No. Is it guaranteeing effort? Yes.
There's a lot of people out there touring and writing their own songs, but that doesn't necessarily mean that their music is valuable enough to be heard by the masses. What's to keep people who may not embody the Outlaw spirit from just becoming part of this if there's no governor to keep anybody and everybody from applying?
The fans of Outlaw music are by far the most discerning fans in the world. Otherwise, these artists wouldn't have any success. An artist will make it if his fans want him to make it. The fans are going to decide if you make it or not, not the Association.
The assertion about Music Row is that they choose who is going to be the stars, and then they push that to the fans. What you're saying with the Outlaw Music Association is the fans would choose the stars, and the OMA just gives them the platform and the support so that the fans can make that choice.
Eloquently put. And shouldn't that be the way it is? Shouldn't the fans be able to say what they like and don't like? They shouldn't be told what's good and not good. With the focus being so narrow and money dictating who is going to be the next star, we're all robbed. The fans are robbed, the artists are robbed, everybody is robbed of the next potential star. It's not my job to decide who is good and who's not good.
Tompall Glaser recently passed away. Right after he died, I posted a quote that came from him back in the 70′s that goes, "Damn it, the fight isn't in Austin and it isn't in Los Angeles. It's right here in Nashville, right here two blocks from Music Row, and if we win–and if our winning is ever going to amount to anything in the long run–we've got to beat them on their own turf." And I've heard some similar criticisms about Dale Watson's Ameripolitan genre where it seems like, "Okay, were going to give up on Nashville and country music, and we're just going to call it what we want to call it." What would be your rebuttal to that as far as setting up something that's apart from Nashville and Music Row?
Lynchburg, TN is not but 55 miles south of Nashville. It's close enough to pull resources from the Nashville area, but still far enough away and separated enough to say, "Hey, this is separate. This is an alternative." The people, the demographics that are visiting Lynchburg on a daily basis are the same people that are going to visit our Hall of Fame. It's all about inclusion. This country is based on freedom, and I believe artists ought to have the freedom to practice their music the way they want without the almighty dollar driving their product.
In closing, I would just like to say to all the fans of Outlaw country music, thank you, and if you really want to make a difference, you have an opportunity. But you have to express your voice. You can't just sit in your truck or in your house and say, "This sucks," and expect it to change. If you want change, this is your opportunity. This is a grass roots movement. This is your Hall of Fame. This is your Association. If you want to support artists that made the music what it is today, and those that are continuing in that same vein, support the Hall of Fame, support the Association. Let your artists know that you support us, that you support them by supporting us. This is only going to work if the average fan stands up and says, "I've had enough. I want a hand in what I listen to."
When looking at the historical timeline of country music, many times it is big events that set the wheels of change in motion, for the good and the bad. Whether it is intrusion of pop or rap into country, or the ill-treatment of country music greats, here are some of the most embarrassing moments in country music history.
---
Shuttering of the Country Music Mother Church
The Grand Ole Opry needed a bigger home and the move was inevitable, but the result was the complete shuttering Ryman Auditorium, also known as the Country Music Mother Church, for 20 years. Aside from being opened by special permission to shoot videos for folks like Jason & The Scorchers, John Hartford, and for parts of the Coal Miner's Daughter movie, the venue was abandoned between 1974 and 1994, also allowing the surrounding lower Broadway area to be overrun with strip clubs and dirty bookstores. It wasn't until Emmylou Harris recorded a live album at the Ryman that a renewed interest in the historic venue was sparked, eventually leading to its restoration and re-opening.
---
Garth Brooks Goes Flying Over Texas Stadium
In 1993 at the old Texas Stadium in Irving, TX, Garth Brooks does a video shoot and decides to pull a Sandy Duncan and go flying over the crowd suspended with wires. Though it was a one-off demonstration, it illustrated Garth's influence of turning country into more of a commercial, arena-rock presentation.
---
Jessica Simpson plays the Grand Ole Opry
You already forgot that reality star Jessica Simpson had a stint trying to be a country performer, didn't you? Her career lasted weeks, but that was long enough for the Opry to decide to give her an opportunity to be on the sainted Opry stage on September 6th, 2008, while many other more worthy performers still wait indefinitely in the wings for the distinguished Opry opportunity.
---
Unfinished Hank Williams Songs Turned Into Lost Notebooks Album
Publisher Sony ATV cashed in on a collection of lyric sheets left behind by Hank Williams—some unfinished, and all without music—by doling them out surreptitiously to Bob Dylan, and a bevy of undeserving artists including Jakob Dylan and Sheryl Crow, to finish and record. The Lost Notebooks of Hank Williams raised the ire of many, including Hank's daughter and Williams estate executor Jett Williams who said about the project, "It was like 'here are some lyrics' instead of trying to think, "If Hank Williams was sitting here with me and it's got his musical footprints all over it." You would think that when you heard the song being sung by the artist, that it would have some kind of (Hank) feel to it, which I'm not feeling it myself."
---
DeFord Bailey Fired from the Grand Ole Opry
Harmonica player and Country Music Hall of Famer DeFord Bailey was one of the early stars of the Grand Ole Opry, and was an official member from 1927 to 1941 when a dispute with BMI-ASCAP wouldn't allow him to perform his most famous songs on the radio. Instead of standing behind one of their founding performers, the Opry fired DeFord. This ended his performance career and DeFord shined shoes for the rest of his life to make a living. DeFord did not play the Opry again until 1974 when he appeared on an "Old Timers' Show."
---
Jason Aldean Performs "Dirt Road Anthem" with Ludacris on CMT Awards
"History has been made baby!" Ludacris declared from the stage in June of 2011 when country music saw its first rap performance on an awards show, and the first live mainstream collaboration with a rap artist. This event and "Dirt Road Anthem" hitting #1 would open the country rap flood gates.
---
Olivia Newton-John and John Denver Winning CMA Awards
Olivia Newton-John's CMA for "Female Vocalist of the Year" in 1974, and John Denver's CMA for "Entertainer of the Year" in 1975 symbolized the historic intrusion of pop into the country format in the mid-70′s. The trend was staved off the next year when Willie Nelson and Waylon Jennings ushered in the Outlaw movement in country.
---
Taylor Swift Wins First CMA for Entertainer of the Year
The date 11/11 was not good luck for country music in 2009, when Taylor Swift took home her first Country Music Association "Entertainer of the Year" award along with three other trophies on the night. Teen pop had now taken center stage in country music.
---
Induction of Keith Urban, Rascal Flatts, & Darius Rucker Into The Grand Ole Opry
The Grand Ole Opry had already been wanting to appeal to a younger, more youthful crowd, but in recent years they have ratcheted it up another notch, completely ignoring older country stars worthy of induction for pop country's latest trends.
---
"Struggle" Turns Waylon Songs Into Rap
It was bad enough when rap infiltrated country music. Now it has gone back in time to overwrite the songs of country greats that have passed on. Waylon Jennings' grandson-in-law nicknamed "Struggle" (his real name is Will Harness, and his real grandfather is Duane Eddy) took 7 Waylon Jennings songs, and rehashed them into rap songs in an album entitled I Am Struggle released in May of 2013. It was an unprecedented intrusion of rap into country music's past, perpetrated by one of the few people who could get the blessing of the Waylon estate to do so. (read more)
---
Stonewall Jackson Stonewalled by the Grand Ole Opry
After having his performances on the Grand Ole Opry cut back so much that he lost his health benefits, Stonewall Jackson sued the Opry claiming age discrimination against Opry General Manager Pete Fisher. Stonewall claimed the Opry breached a long-standing code that if stars performed a set number of dates each year, even when they could make more money playing tour dates, they would always have a place to play at the Opry even in their older age. The lawsuit was eventually settled in court, and though the specific details of it were never revealed, Stonewall was happy with the outcome, and his performance schedule increased afterward.
---
Garth Brooks Becomes Chris Gains
In 1999, a bored Garth Brooks created a fictional dark pop character from Australia called Chris Gaines and released an album called The Life of Chris Gains. It gained Garth one Top 5 hit, "Lost In You," but Brooks' Chris Gaines idea met with very heavy criticism and confusion from fans, and after only a few weeks, Chris Gains rode off into the sunset and Garth Brooks re-appeared before a planned movie The Lamb could go into production.
---
The Grand Ole Opry's Refusal to Reinstate Hank Williams
Even though there is a Hank Williams impersonator to greet Opry attendees at the door, the institution has refused to reinstate one of country music's most legendary icons, and one that made the Opry an internationally-known institution, even in a symbolic gesture. Hank was dismissed from the Opry in 1952 for missing performances and rehearsals due to alcoholism, and was told he could return once he sobered up. Hank never got that opportunity, dying on New Years Eve of that year. A movement called Reinstate Hank looks to reinstate the country star back into the institution.
---
George Jones "Choices" & Other CMA Performances Cut Short
At the 1999 CMA Awards, George Jones was asked to perform an abbreviated version of his song "Choices." George refused and boycotted the show, and in response Alan Jackson, while preforming his song "Pop A Top," cut his own song short, and launched into George's "Choices." (read more)
This was actually the second time an artist boycotted the CMA's. In a much less publicized event, Waylon Jennings refused to perform an abbreviated version of "Only Daddy That'll Walk The Line." Waylon recalls, "They told me not to get smart. Either I did it or I got out. They said, 'We don't need you.' I decided that was true and left."

There may not be a more notorious moment in the annals of country music lore than when a drunk and disorderly Charlie Rich set fire to the piece of paper announcing John Denver as the Country Music Association "Entertainer of the Year" for 1975. For years the moment has set the high water mark for the rebuke of the pop world infiltrating country, but we only had our sweet little memories or imaginations to conjure up the actual scene of how the protest took place.
Saving Country Music and many others I'm sure have spent hours trying to procure the actual footage of the Charlie Rich fire trick, with a nervous John Denver looking on via satellite from Australia. I never envisioned that host Glen Campbell would be holding a cigarette while standing at the podium and welcoming Charlie Rich to the stage. Nor did I accurately gauge the degree of Rich's drunkeness. But fortunately the footage has finally surfaced, and through the miracle of YouTube, we can all re-live this lost moment of country music history again and again.
At the 1974 CMA Awards, a firestorm erupted when Olivia-Newton John was awarded the "Female Vocalist of the Year." This created a backlash, including many traditional country stars met at the house of George Jones and Tammy Wynette and decided to form "ACE" or the Association of Country Entertainers to attempt to fight the influx of pop stars into the genre. This was the event that set the table for Charlie's stunt.
As the Country Music Hall of Fame describes the incident:
"As a result of that 1974 flap, a memorable CMA Awards event came the next year, when an obviously well-lubricated Charlie Rich ended his reign as 1974′s Entertainer of the Yeah by announcing the new recipient of the CMA's top prize. "The award goes to my friend, John Denver," said Rich., who had been drinking gin-and-tonics backstage. At which point he pulled out his Zippo lighter and set fire to the card holding the name of his successor. Rich held the burning card up for the cameras on the nationally televised live show and smiled a big smile of triumph. The message to anyone watching seemed clear: in Rich's eyes, a West Coast neo-folkie like John Denver, who had built his career on pop radio, was not welcome in country music.
However some disagree that the incident was meant as a shot at Charlie Rich. His son, Charlie Rich Jr. explains that it was more a shot at the industry instead of John Denver specifically, and that Rich was simply trying to be funny, and the combination of alcohol and pain medication from a recent accident made the incident that much more dramatic.
Most believe that the move cost Charlie Rich his career. Rich was presenting the award because he was the CMA "Entertainer of the Year" winner in 1974. It was the last CMA Charlie would ever receive, and his career went on a steady decline afterwards, many believe because of the wrath from industry insiders angry about Charlie's antics.
Aside from the repercussions, and whether Rich had the authority to make such a stand as someone who had crossover radio hits himself, it remains an inspiring and significant moment in country music history, one where an artist had the guts to stand up for the integrity and autonomy of the genre.
How we could use a Charlie Rich right now.
Since music no longer holds any intrinsic value to the American consumer and they'd rather steal a song than have it be sold to them for less than a pack of gum, merch, MERCH is where all the money is now. Major labels manufacture merch in the textile industry's version of puppy mills somewhere in southeast Asia, and then mark it up 700% at the arena concert you paid $185 from a scalper to get into. You can expect pilling fabric and peeling graphics after the 3rd wash, but that's okay because 7 cents of each sale goes to the artist you love.
Here's some country music T Shirts you won't see for sale anytime soon.
The fight for the purity of country music is almost as old as the genre itself. The conflict between pop and traditionalism, and the fight for creative control for artists runs like a thread throughout country music's history, defining it as much as the twang of a Telecaster, or the moan of a steel guitar. Here are some of the most iconic images of country music revolution, and the stories behind them.
Fanning The Flames
Charlie Rich was tapped to present the trophy for Entertainer of the Year at the CMA Awards in 1975. Knowing what name the little envelope contained (and not being too happy about it), Rich pulled out his bic and lit it on fire, announcing the winner as "My friend, Mr. John Denver." Denver wasn't in attendance and accepted via satellite, unaware of the pyrotechnics. Rich, who'd won 5 CMA Awards in the past, was never invited back to the CMA's, and was never nominated again.
Flipping The Bird
Johnny Cash's famous middle finger photo was shot by photographer Jim Marshall at California's San Quentin prison during a concert in 1970. The pose was the response to Jim's request: "John, let's do a shot for the warden." Where it became an iconic image of American culture was years later, when Johnny Cash was making his American Recordings records with Rick Rubin. Cash's album Unchained had won the Grammy for "Best Country Album", but was being virtually ignored by country radio. So Rick Rubin ran an ad with the obscene image, along with the caption, "American Recordings and Johnny Cash would like to thank the country music establishment and country radio for your support." (read full story)
Friends United
On March 17th, 18th, and 19th of 1972, The Dripping Springs reunion, aka the "Country Music Woodstock" went down just outside of Austin, TX. It was a commercial flop, but a fundamentally-important event nonetheless because it established Austin, TX as a serious alternative to the restrictive environment of Nashville, with Willie Nelson leading the charge. Similar to the underground/independent movements in country music today, The Dripping Springs Reunion paid respects to the older legends like Bill Monroe, Earl Scruggs, Buck Owens, and Roger Miller who all attended and performed, while establishing in earnest the Outlaw movement with native Texans Willie Nelson, Waylon Jennings, and Kris Kristofferson at the helm.
Renegade Spirit
Tompall Glaser saved his pennies from his days in The Glaser Brothers and bought himself a renegade studio / clubhouse that would later be known as Hillbilly Central. Located on 19th Ave. right off of Music Row, it broke the monopoly RCA, Chet Atkins, and Studio "B" had on country music at the time. It allowed artists like Waylon Jennings and Billy Joe Shaver to record their music the way they wanted and use their own bands as opposed to Nashville's unionized studio musicians. In the words of Outlaw writer Michael Bane, it was "the home of all those records Nashville really didn't want to make," including such iconic albums as Waylon Jennings' Honky Tonk Heroes and John Hartford's Aereo Plain.
Showing Respects
Though the Grand Ole Opry continues to use the likeness of Hank Williams prominently, he was never reinstated as a member after being dismissed in 1952. The understanding was that Hank would sober up and make a triumphant return to the Opry that he so loved, but he died on New Year's Day 1953 at the age of 29 and never got the opportunity. Hank's grandson Hank Williams III started a movement called "Reinstate Hank" that now boasts over 54,000 signatures on its online petition. (photo courtesy of minnemynx)
Taking Control
Wanting to take creative control of his music and to be released from the budgetary restraints of the studio, Hank Williams III did the unprecedented for an artist signed to a major country music record label under the CMA umbrella. He took a a Korg D-1600–a consumer-grade piece of recording gear–and cut his record Straight to Hell in the house of his bass player, Joe Buck. It was the underground mentality brought to the mainstream, with the result being Hank3′s magnum opus.
(from left to right: Andy Gibson, Hank Williams III, Joe Buck)
The Country Music Anti-Christ, Big Machine Records owner Scott Borchetta was on American Public Media on Friday (9-28-12) with host Kai Ryssdal, and had some pretty incendiary things to say about country music, proving why he deserves his infamous "Anti-Christ" moniker. Ryssdal went right after Borchetta, citing Saving Country Music's "Anti-Christ" labeling specifically, and playing a cut from Big Machine artist Taylor Swift's song "You Belong With Me", asking him if it was more pop than country.
"If you don't want to consider it country, I really don't care," was Borchetta's response. "That means nothing to me."
In the interview, Borchetta also defined country as, "Whatever fans of country music listen to and like. It's younger. It's youth."
Listen to interview:
Borchetta went on to claim he was just the latest in a line of folks being blamed for killing country music, citing Patsy Cline, Kenny Rogers, and Shania Twain as other country stars that were more pop than country in their day and received the same scrutiny Taylor Swift does now.
On that last point, Scott Borchetta is correct. One of the reasons that country traditionalists and purists are losing the battle for the term "country" is because many are unwilling to admit that pop influences have been a part of the genre since the beginning.
But what Borchetta and other country pop apologists don't seem to understand is that country has never been this unarguably and exclusively pop before, and mainstream country's obsession with image and youth has severed the ties to the roots of the music that were clearly evident even when Patsy, and Kenny, and John Denver were plying their craft back in the day. If country loses its identity and autonomy from the rest of music, it could erode its long-term sustainability, and the legitimacy and importance of its institutions and infrastructure.
But let's not bury the lead here. Scott Borchetta finally said what we all knew he believed through his actions: that he doesn't care about country music or the significance of the 'country' term. It is an annoyance to him, a trifle.
Make no mistake about it, Scott Borchetta is winning, against purists, and against his counterparts on Music Row. While Nashville's major labels are still trying to navigate the retooling to the digital age, Borchetta is running circles around them, pilfering their talent rosters, while has-been's like Mike Curb hurl frivolous lawsuits at him as obvious moves of desperation and spite.
As I explained when christening Borchetta with the "Anti-Christ" name, his nickname is not for Music Row's traditional sin of manipulating its artists. Borchetta gives his artists immeasurable latitude compared to the rest of Music Row. It is because Borchetta is eroding the significance of the 'country' term more than anyone else has done in the history of the genre, with the help from Taylor Swift and other Big Machine artists, while at the same time re-integrating and monetizing anti-Nashville sentiment back into the corporate country world through fake "Outlaws" like Justin Moore.
Yes, I'm sure similar words were spoken in Patsy Cline's day, or when John Denver won his CMA in 1975, and it's uaually folly to think that the time you live in is the most critical and has never been worse, but it really does feel like the importance of the term 'country' is at its eleventh hour. It's hard to argue anything else when the most powerful man in the genre looks at the term as irrelevant.

Chet Atkins and Owen Bradley may have killed country music in 1957 when they developed the Nashville Sound, but would have denied it to their graves, praising the genre to the end. Borchetta on the other hand, with brashness, doesn't even have enough respect for the term 'country' to feel it's worth acknowledging if he's killing it or not. It's superfluous to him that anyone would even care.
"You know, big deal. It gives everyone something to to talk about, something to write about."
"Garth Brooks did for country music what pantyhose did for finger fucking."
This is a quote attributed to Waylon Jennings, and one that's hard to argue against. But over time, Garth Brooks' music has fallen more into favor with traditional country music fans who once revered him as the country music anti-Christ. Why? Because country music's current decline has revealed Garth's music as not being as bad as once thought, and in sharp contrast with today's music, it's actually country.
- – - – - – - – - – - – - – - – - – - – - – - – - – - -
The 80′s were kind of a mess for the mainstream country music world. Fans had to stare at Hank Williams Jr.'s decapitated head levitating in the middle of a Confederate flag, or squint real hard to make a superstar out of Ricky Skaggs to come away with any memorable 80′s-era icons.
And then came Garth. A lot of country purists may be reluctant to admit it, but when Garth Brooks first came onto the scene, they probably had no problem with him. There was no reason to. Unlike a lot of the crossover successes from country music's past, i.e. Olivia Newton-John or John Denver, and the current crossovers like Lady Antebellum and Taylor Swift, Garth Brooks was country, and good. And in many ways, he was just the shot of adrenaline the declining country genre needed.
And then Garth got big. Real big. Bigger than any other musical act all time other than the Beatles and Elvis. Then he passed the Beatles.
The reason the Waylon quote speaks so deeply to the heart of many country music purists is not necessarily because of Garth's music, but because of the man, and the impact he made on the business of country. To many, Garth Brooks was good until his music became an inlet for millions of interlopers into the country genre. He sold millions of albums in Asia. He seeded country music into football stadiums, and over-saturated the culture with his songs, while his albums monopolized the top of the music charts for years at a time. Garth and his music became easy to hate from a purist or artistic standpoint as the masses bought into it in droves.
Structural changes to the business of country music were really what Waylon was referring to in his quote. As an old-guard Outlaw, Waylon could see the erosion of all the principles of self-governance for the artist that he and the other Outlaws had fought for, as Music Row retooled and obsessed over finding or manufacturing the next "Garth". The hyper-attention to the here-and-now this created also interrupted country's long-running order in how it dealt with its aging talent like Waylon and other "legacy" artists.
And then there were a lot of the specific things that Garth the OSU advertising graduate did, like emulating KISS in his stadium shows and flying out across the crowd on wires, his battles with Blockbuster Music for selling his used CD's and other ultra-protective practices that made a man who had sold over 100 million albums look greedy, his somewhat-failed "Chris Gaines" crossover gimmick, his bullying of the Super Bowl, and his "retirement" in 2001 that seemed to fly in the face of the idea that musical artists make music out of love. And after signing an exclusive deal with Wal-Mart to sell his music, it seemed easy to surmise that Garth Brooks had only ever been in music for one reason.
When it was announced that Garth Brooks would be one of the 2012 Country Music Hall of Fame inductees in his first real year of eligibility, it was hard to call it a surprise, and getting mad over it seemed like getting mad at a young puppy for soiled carpet. Garth's impact on country music was so deep and indelible, his induction was unmistakeably inevitable, however unfortunate some might see it.
In the end, Garth's stage antics and sales numbers and behind-the-scenes impact are not going to be what fans focus on. They're going to focus on the music, and what has really injected Garth's music with redemptive qualities has been the steady decline in mainstream country music over the era that Garth Brooks arguably initiated.
Folks say all the time about Waylon Jennings and other country legends that they would never make it on country radio today. But the same could easily be said for Garth Brooks. He's too good, and too country. Compared to most of mainstream pop country today, Garth would be classified somewhere between honky tonk and hard country, and would be playing a club circuit. Compared to the "new Outlaws" and their laundry list songs, you could classify Garth as "real". Taylor Swift may be the most real artist in country right now, but she's not country at all. Garth Brooks was over-produced for sure, but does this mean he was inherently "fake" compared to what that term in country music means today?
Autotune wasn't even around in Garth's heyday. It's hard to push Garth as an expert musician or an amazing songwriter, but he had enough of a hand in both that he was inducted into the Songwriters Hall of Fame in 2011. He may have been country music's biggest sellout, but did Garth ever sell perfume? When people start to preach about what country music should be, much of Brooks' music fits that model, with fiddles and steel guitar and heartfelt songs.
That doesn't mean Waylon's quote about Garth was unfounded. Regardless of how "good" Garth's music was or is, it's irrelevant to the adverse effect he had on the country music business, and how his music might have effectively muted many other artists that were still measures better.
And just like every artist, Garth had bad songs and bad albums as well. But another move that might have helped Garth is that early retirement some use to say his heart was never in the game. If his heart was not in it, at that time or ever, wasn't retirement the more noble course than continuing on? Garth's Chris Gaines skit is much maligned, but maybe this was Garth's attempt to stay engaged with a business more and more he was feeling estranged from. Maybe Garth saw the moves to pop that country was making, or how shallow his own presentation was, and was unwilling to continue.
Garth is 50-years-old and about to enter his legacy era, where you not only enjoy the fruits of your labors, it's also where you forge the true nature of what your legacy will be. True country music legends like Willie Nelson and Johnny Cash not only enjoyed a resurgence of interest in their music, they became elder statesmen of America, creating indelible legacies beyond the music world.
The question for Garth Brooks now will be what legacy he will create for himself in the next 20 years. But if country music itself continues down the path of abandoning its roots, the legacy of Garth Brooks' music will likely only continue to brighten.
So here comes a new album from Shooter Jennings called Family Man, his highly anticipated, slightly-delayed return to his country roots after a foray into the industrial side of music with his last offering, Black Ribbons. Though Shooter's sonic style may not always be predictable, I've found his last few albums to be that very thing in the respect that they will have their moments of greatness, balanced by moments of sheer weirdness and ill-advised content, and when you're done you're left with a mixed bag.
Family Man starts off very country, and very good with the song "The Real Me". A very fun structure and wording, this song allows Shooter to show off his use of dynamics. The second song "The Long Road Ahead" is a good one too, and may be the "hit" of the album, though it is retarded significantly by an out-of-place guitar wank by former Rage Against The Machine axe man Tom Morello lunging at you unexpectedly like a crazy ex-girlfriend wielding rusty scissors.
The guitar solo would work in the context of Zach de la Rocha of Rage whipping his dreads around like a cat & 9 tails and screaming about "taking the power back", but in a country song, this wild-assed accoutrement goes over like a fart in church. Then again, "The Long Road Ahead" really isn't a country song. It has a pop rock heart, and the first two offerings on Family Man set you off on a stylistic wonkiness and lack of direction that besets this album from stem to stern.
As I said in my song review of "The Deed & The Dollar", it is just okay, and I'd lump "The Family Tree" and "Born Again" in this same category. Like Kevin from the TV show The Office, these songs are remarkably unremarkable.
At the fourth slot on the album, "Manifesto No. 4″, Shooter shines doing what I've always felt fits Shooter best: not rock, not country, but Southern-fried soul. This song is one of Family Man's standouts.
"Summer Dreams" and its similarities to so many John Denver "gee get me out of the city, I'm a country boy" songs make it feel eepish, and this leads into what I fear is an outright mistake on the album, "Southern Family Anthem". When this song was originally released somewhat quietly on a compilation, I received more emails and requests for my opinion than ever before from irate listeners. My ruling was it was unfair to judge this song without the context of the Family Man concept. Well now we not only have the picture, we have the frame, and I'm sorry to say that "Southern Family Anthem" possibly comes across as even worse and more offensive and confusing than it did autonomously.
Is Shooter trying to offend Southern people in this song? I would vehemently say no, but I can't say that from the content of the song itself, only from the back story and Shooter's insistence. Shooter swears the song is all "true" and don't think for a second I don't believe him, but it is silly to think that songs can come with lengthy explanations of back stories to coincide with a listener's initial reactions. This song isn't just dark, it is disturbing, and not in a good way. And it is done even one shade worse by a horrifically-predictable chorus.
How in the world could a song like this, that is so ripe for misunderstanding, and that could (and in some cases has) boiled over to outright anger make it on this album and an excellent song like "Outlaw You" not?  Is it worth it? Shooter Jennings is given credit as the producer on the album, and I'm all for artists calling their own shots, but someone needed to talk some sense into the man. He didn't necessarily need a producer, maybe just a friend to say, "Dude!"
"Cause momma's on crank, daddy's got Hep C. Yeah we all die together we're a family," is the line that seems to hold elements of ultra-harsh stereotyping and judgement that just doesn't need to be on this album or any other, regardless if it was intended. It would seem out-of-place even from some angry, hardcore country metal slasher band.
The madness of "Southern Family Anthem" dumps you into "Daddy's Hands," the best song on the album from a songwriting perspective. Sincere, impactful, and honest, this is where the Family Man concept comes to fruition and feels right in mood and spirit. This sweet soliloquy to Shooter's father has the ability to send deep chills through men from its use of memory, and Mickey Raphael's harp magic takes it over the top.
The last song to mention is "The Black Dog", and utterly confusing, lengthy, coal mine tragedy song that meanders absolutely nowhere, droning and virtually senseless. Is this a harsh take? Probably, but it is also true from this bear's perspective. At least "Southern Family Anthem" keeps you engaged, waiting for the next shocking turn of offensive language. "The Black Dog" is just painful.
In the end I'm just surprised at the sheer lack of direction with this album. I guess there's a "Family Man" concept here, but it almost seems a burden to the music instead of a compliment. I really expected great things from this album. I thought Shooter would come out hungry, fighting for redemption from the mainstream country crowd, looking to prove his critic's wrong. This album really isn't that country though, any more than it is anything else. It seems to want to be country, with it's easily-identifiable but sonically shallow Waylon beats at times, but it seems to be striving for mainstream sensibility and acceptance as well.
There's a very "one foot in" feeling to it–no purpose–flat vocals ferried by excessive reverb from someone who can be a very soulful singer. And no binding agent to hold these songs together in any meaningful anatomy.
However I would be lying if I said Family Man didn't have any moments. And yes, Shooter is a nice guy, but that is not a sonic element you can measure in music. What this album may have needed more than anything else was honesty of perspective. Removing two songs and Tom Morello's solo would have dramatically improved Family Man's destiny. Instead, they will distract people from the positive elements.
One gun up for Mickey Raphael's harmonica, Keith Neltner's art design and concept, for "The Real Me," "Manifesto No.4," "Daddy's Hands, and "The Long Road Ahead" sans Tom Morello.
One gun down for all the rest.
- – - – - – - – - – - – - – - – - – - – - – - – -
Kevin Fowler, you are dead to me.
I followed you for a while as a cool songwriter from my home state of Texas, but your flirtations with selling out to the corporate music machine have now gone way past heavy petting with pop country, to dirty sex with the man who would kill country music if it meant keeping him flush in chicken and biscuits.
When Taylor Swift won the CMA for Entertainer of the Year in 2009, we thought it could get no worse. We also thought that when Sugarland put a reggae break in a song, or when Jason Aldean covered a Colt Ford rap, or when Trace Adkins took a stupid urbanism and turned it into the premise for a whole song, or when Arron Lewis took the same Staind song that's been rehashed a dozen times and called it country. But still they spiral continues downward. The formulas get even more stale, the lyrics get even more condescending, until Taylor Swift looks like the median of quality, or maybe even the high water mark that all the other refuse on mainstream country radio falls in line behind.
The latest new low is this "duet" by Colt Ford with the aforementioned Kevin Fowler called "Hip Hop in a Honky Tonk." You can probably guess the premise. 2011 might be the year that the two 2 super-genres of hip hop and country merge into a mono-genre as I've predicted, as the lost and creatively bankrupt music industry continues to contract, offering no contrast, no creativity, and no choice. What could be a finer example than this:
I haven't talked much about Colt Ford up until now. My policy before was to stay out of his way and let him fall on his own sword as an obvious sideshow and flashbulb craze. But unfortunately, Kevin Fowler and Jason Aldean, in a shameful attempt to make their own stars burn brighter, have added a level of legitimacy to his name. What really got me was this line from the song:
Now what do you think old Hank would say, It would kill him if he was still alive today

I'd bet money that he's rolling over in his grave, 'cause Hank sure as hell didn't do it that way.
In the context of the song, Colt is acknowledging that Hank Williams, who is the one man most responsible for making country a relevant music genre, would be appalled by the mixing of country and hip-hop, and ended it with a play on Waylon Jennings' song "Are You Sure Hank Done It This Way," an anti-Nashville song about how the country music industry has lost its way. In other words, Colt is transgressing the traditions of country with this song, then acknowledging that he is transgressing them, so he can't plead ignorance. Then he mocks these traditions, and then mocks anybody who would defend them from people like himself.
I know some will say, "Hey, this is all a big joke." Well pardon me if I don't laugh as my culture is being trashed for commercial gain.
And why does country always have to be the submissive genre when country and hip-hop collide? Why can't it be honky tonk music in a hip hop bar? I'll tell you why, because hip hoppers have more self respect than this, and would bust a cap in any project before it could make it to mastering.
I don't understand what is going on here. Why is this lowly little blog the only place where sheer mortification for this garbage lives? This is our culture ladies and gentlemen, and it has been stolen from us. It has been ripped right out of our hands, and used, exploited, trashed, and now thrown back in our faces as they mock us for caring about it.
Where's the outrage? Where are the voices of dissent? Where is Hank Williams Jr., Jamey Johnson, Miranda Lambert, or George Strait? Why are they afraid to come out and state the obvious, that this is an abomination? Where is the Charlie Rich of 1974 that took a lighter out and burned the envelope naming John Denver as the CMA Entertainer of the Year? Are they just unaware, or are they too afraid to put their own asses on the line for fear this is where all music is going and they don't want to be the ones at the party without a chair when the REAL music stops?
We need someone standing up to this that has a bigger megaphone than me. We need assholes crashing Colt Ford shows and heckling his ass between songs. We need Hank Williams reinstated to The Grand Ole Opry. We need to draw a line in the sand or next week the song I roast will be yet another step worse. This is OUR music, the people's music. And if this trend continues, all that will be left is our memories and a few mp3′s and some dusty old records.
We must fight.
Normally I don't pay much attention to the country charts or country sales numbers from top artists, but the current dynamic of new releases has made it an almost daily necessity as Music Row continues to stretch to boost dramatically slumping sales.
With every popularity cycle, there's a new threat to the integrity of country music. At the end of last year it was Taylor Swift. Earlier this year it was the so-called "new Outlaws"  like Eric Church and Josh Thompson. Now Music Row has stopped trying to dress up pop music as country like they did with Taylor, or trying to capitalize on anti-pop country sentiment like they did with the new Outlaws, and are now going straight forward with pop, period, designed to sell out stadiums in the arena rock mold. No mandolins or fiddles buried deep in the mix like we used to bitch about; the country music fan has been so desensitized, the need for lip service has even evaporated.
At this is moment in time, right now, is where mass-appeal arena pop rock uses the term "country" and the infrastructure of country music to be disseminated. Almost a year removed now from Taylor Swift's CMA for Artist of the Year, and Swift looks like a traditionalist compared to Sugarland, and their new unapologetically pop album The Incredible Machine.
Despite much controversy over this album and it's single "Stuck Like Glue," it is the #1 album in the country right now. One of the controversies is that some radio DJ's are removing a horrific reggae breakdown in the single. This has caused some to warn about free speech issues, but some DJ's are insisting they received the single pre-edited.
I could get the Kingsford out and roast this album all day, but y'all know that I am a biased hardliner. So lets see what some other critics say:
Most of us have by now come to accept that modern country music is more a state of mind than a particular sound, so it's not necessarily a bad thing that Sugarland's latest is essentially a full-blown rock album. If only it weren't, more specifically, a Bon Jovi album. . . When having 15,000 fans wave their cell phones in the air goes from a nifty career aftereffect to the very reason for writing songs, it seems like something is amiss.
…subtlety, nuance and, most disappointingly, substance are checked at the stadium gate as the pendulum swings unmistakably toward sing- and sway-along anthems. The single "Stuck Like Glue" bursts with melodic, instrumental and lyrical hooks in a track as frothy as pop gets. Several other tracks show equally skilled production, but the appeal is all on the surface. . . The new stuff will most assuredly get audiences on their feet; whether it leaves them with anything beyond visceral thrill as they exit the arena is another matter.
Slant Magazine takes it even further, picking apart its substance as a country project, but also questioning its quality as a pop project:
Though its style alone makes it a sure bet to be hailed as progressive by those who only like country music that doesn't sound a damn thing like country music, and just as sure to be reviled by country music purists, the real problems with the album are with its failures of execution and its inexplicable aesthetic choices. . . Many country fans are going to dismiss the album simply because Sugarland has gone pop, when the far greater issue is that The Incredible Machine is just awful of its own accord.
I'm sure there is a positive review out there somewhere, but I couldn't find it … for the #1 album in the country! And what do we have to look forward to? Taylor Swift's Speak Now which was released this week, and will surely claim the #1 spot and hold it for many months ahead. Even the one positive that critics are offering resistance, is counter-balanced by the majority of country fandom taking the Sugarland bait along with the sinker.
This is not John Denver and Olivia Newton John ruffling feathers by winning country awards like they did in the 70′s. This isn't Garth Brooks flying over stadiums on wires. This isn't Rascal Flatts rehashing classic rock songs, or even Taylor Swift playing with a fiddle player hidden in a dark corner. This is it. This is the bottom of the slippery slope, the payoff for years of desensitization and subtle creeping toward pure pop and arena rock where no more tributes to the traditions of country are necessary. Country is now the default term for any music with mass appeal made by white people.
Country is pop. Country is arena rock. And Sugarland's Incredible Machine is country music's 'rock' bottom.
I would much rather be writing an album review, or highlighting a new artist. But since the 19-year-old Taylor Swift took home an unprecedented four CMA's, including Entertainer of the Year and Female Vocalist of the Year, this website has been flooded with traffic, similar to what Rush Limbaugh probably experienced after Obama's win, which is ironic, because in the last few weeks, I've felt more and more like the Michael Moore of country music, exposing it's corporate excesses and corruption. People are flocking here because they want some justification for how they feel. They want to find camaraderie, and hope.
I'll tell you straight up, I've had a hard time since I watched Taylor take home the most important award in country music. I anticipated her winning, but I didn't anticipate feeling this way afterward. This isn't fun for me any more. I can't just poke fun of these pop personalities and move on. It's all taken an emotional turn that I don't like. It has become personal, partly because at times the behavior of Nashville entities has become almost criminal.
Take the Milsap / Capitol Records mess. The other day I received a letter from a woman who lost her husband fighting a fire; the people Milsap is trying to help. The day after Keith Urban was exposed for operating a ticket scam, the next day Taylor Swift was implicated in a similar situation.
I don't want to be the predictable guy at the extreme edge of the country music perspective. I want to embody the trunk where the rest of country music branches from, including the pop and mainstream elements. But the perspective has shifted so, pop is the trunk, and we are the outer branches. Some are saying country music is entering a new era, more oriented to pop, and destined to see similar acts to Taylor Swift come on the scene. Yes, they're saying country music will become even more pop than it already is.
Forget the arguments if Taylor Swift is country or not. Forget all the talk about her songwriting being immature. Forget that her management deals in unscrupulous ticketing practices. I watched the CMA's cover to cover, and it began with a Taylor Swift performance where she just outright did not sing in tune. She won Female Vocalist of the Year, and she can't even sing. And don't take my biased opinion on that, read it HERE.". . .off-tune, a consistent characteristic of Swift's live outings . . . Struggling for her notes but not showing any concern about it."

And for all this talk of Taylor Swift being a good role model and her songs being wholesome: "Swift made a flurry of arena-rock moves, shaking her long, gold tresses as if she were Robert Plant and sliding down a shiny pole in what seemed like a defiant nod toward her friend Miley Cyrus, who took guff for similar gyrations on this year's Teen Choice Awards.". I saw with my own two eyes as she squatted spread legged in a skirt and humped the stage.
What a slap in the face to performers like Carrie Underwood and Miranda Lambert that the Female Vocalist of the Year can't even hold a tune. Say what you want about many female pop country singers, there are some strong voices there. Let this sink in for a second. The girl we just gave to crown of country music to can't even hold pitch.
In 1975 there was a backlash in country music when John Denver won Best Male Vocalist. I would kill to hear "Country Roads" coming out of my radio right now.
And part of me feels bad for Taylor Swift. I have been careful not to ever criticize her as a person. It is not her fault that this false crown has been hoisted upon her by the spoon fed American consumer, she just has to deal with the repercussions. She said that winning Entertainer of the Year was all that she ever wanted. Well when you achieve that at nineteen, there is a good possibility the rest of life is filled with letdown, and holes can open up in your life; holes that you can fall into, or that need to be fed.
Maybe in the end this will be the beginning of the end for pop country as I surmised earlier. But right now I have a very uneasy feeling. The game has changed, and I don't like it. I want to go back to just enjoying the music. Part of me feels that all hope is lost and I should just hang up the spurs, but another part of me wants to redouble my efforts to offer support to the true country artists still left.
Regardless, the simple fact is country music is dead, in the estimation of me and many others. The circle is broken. It's done, period. There is no more saving country music, there is only the glimmer of possibility of resurrecting it someday, by gathering up the pieces of the circle that still live in the hearts of the true country fan and reuniting them into the grace and soul that is REAL country music.
I will continue to do the work to reunite the circle, because apparently nobody else will. But right now what is called for is brutal honesty.
Leave an epitaph below if you wish.
Real quick: A Hank III tour announcement is imminent. According to hank3.com it's gonna start on the 23rd. But remember last Spring there was a big brewha when a bunch of tour dates surfaced and they turned out to be false. So nothing is official until it's official, and let's not go chasing rumors. I'm being told hopefully something official will come out by the end of the week.

---
ACE & The Outlaws vs. The CMA

A few have commented in Part 1 & Part 2 that we should run our own awards show. Well your not the first to have this idea.

The year was 1974. 'The Outlaws' of country music were on the rise, and had already taken over Texas. Willie Nelson had put together the 'Dripping Springs Reunion' that featured new Outlaw acts right beside legacy acts like Tex Ritter and Earnest Tubb, showing that these Outlaw newcomers didn't want to replace the legends, but rather embrace them.

But on Music Row in Nashville, the story was a little different. At the 1974 CMA Awards, none other than Olivia Newton John, clearly a pop performer, won best female vocalist. REAL country music performers were outraged. And they did something about it.

At the time, Tammy Wynette and George Jones were hitched, and in Tammy's house, REAL country music artists formed their own organization, the "Association of Country Entertainers," or ACE, and threw their own awards ceremony. Members along with George and Tammy included Bill Anderson, Porter Wagoner, Jim Ed Brown, Dottie West, Brenda Lee, Faron Young, Conway Twitty, Hank Snow, Mel Tillis, and Dolly Parton.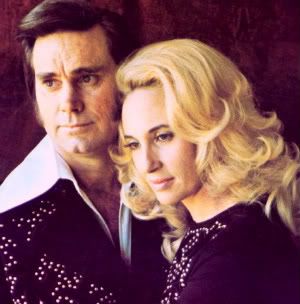 (George Jones & Tammy Wynette)
Unfortunately ACE never really got off the ground. But the Outlaws finished what ACE started. The next year in 1975 is when Waylon Jennings walked out of the CMA's, and a liquored-up Charlie Rich pulled out his zippo and lit fire to the envelope that held the name of John Denver for Best Male Vocalist. The Nashville oligarchy had tried to turn country into a form of pop music to increase sales, and traditional country artists were in outright revolt.
1976 is when the album Wanted! The Outlaws
came out, and became the first certified platinum country album ever. Nashville label executives had brought country to the brink of becoming just another pop genre, and the Outlaws had saved it. The sheer numbers The Outlaws had behind them could not be denied even by the CMA, and The Outlaws virtually swept the awards show.
Waylon Jennings and Willie Nelson are named vocal duo of the year and win single of the year for "Good Hearted Women. Wanted! The Outlaws earns album of the year honors for Jennings, Nelson, Tompall Glaser and Jessi Colter.
– - – - – - – -
I speak up against many of the Nashville institutions like the major record labels, the CMA, the Grand Ole Opry, etc. But there's one I always sing the praises of: The Country Music Hall of Fame.
The Hall of Fame has a theme: Will the Circle Be Unbroken?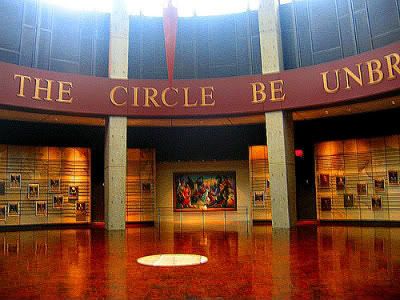 (From the Hall itself)
The circle is country music, and it's always changing style and mood. But no matter how far country has gone towards pop, the roots of country always rise up and put in back on the right path: completing the circle, not allowing it to be broken.
Tonight, country music is in the same state as it was in 1974, with people like Kid Rock and Taylor Swift performing. It is our duty as REAL country music fans and performers, to organize and revolt against these people trying to steal our music and culture away from us.
The circle cannot allowed to be broken.

---
This is my last installment of this series of blogs. I could probably write one or two more, but maybe next year.
I just want to say THANK YOU to everyone who has read. The response to these blogs has been amazing. I have the best readers on the whole earth planet.
Support SCM and start
your Amazon shopping here
Recent Comments