Browsing articles tagged with " Long Hauls Close Calls"
Just down from hank3.com:

The muddin' version of 'Long Hauls and Close Calls'

ALSO:
Yep that's none other than Shelton Hank III and Hank Jr. hanging out with none other than Jesco White.
Here's the scoop:
"Recently, a meeting of the outlaws took place in Paris TN for the filming of "The Wild and Wonderful Whites". White family friend and Producer Storm Taylor has teamed up with Director Julien Nitzburg (The Wild World of Hasil Atkins) to make a documentary about the legendary Jesco White and his family. "We have been following the family for about a year now. As you can imagine…It has been quiet a ride. I felt that that there was absolutely no way that we could truly complete this project without the support and music from Hank 3″ said Storm Taylor in a recent interview. After a few months of planning, Hank III had a brief afternoon entertaining the cast and crew at his Nashville home. He then took the crew to a more rural setting….as Hank Jr. played host to what can be called a 'once in a lifetime' weekend. "Just imagine a cabin, some beer, a pig roast, 4 wheelers, a pond, Hank III, Hank Jr, and Jesco White all rolled up into a big Hellbilly weekend ball…unimagineable" Storm said."
"'The Wild and Wonderful Whites' is scheduled to be released in early 09′ for MTV Films. The documentary will feature a wide variety of music, including local West Virginia artists….and Hank III (of course).
"For updates on additional filming and information about "The Wild and Wonderful Whites" please visit Storm's Myspace."
Make sure to go to hank3.com and check it out, because there are additional pictures of Hank Jr., Hank III, and Jesco, including pictures with Keith Neltner and Blake Judd.
I've also heard from numerous people that Hank III and Jr. have been hanging out and hunting together recently, so it seems like everything seems to be patched up, whatever was unpatched to begin with, and this is VERY good news.
How to Order Damn Right Rebel Proud on Vinyl
I have had a ton of people asking me about this, so please help me spread the word.
For those of you that haven't heard, Hank III's new album Damn Right, Rebel Proud is going to be released in limited quantities in a record version. The record will also include a copy of the CD. A lot of people have been wondering how they can order a copy.
HERE'S THE DEAL: The only way you are going to be able to order this record is through a LOCAL RECORD STORE. Unless something changes in the future, it is not going to be available online anywhere, or at any major retailer.
Why?
Because the release of this record, as well as the video for Long Hauls, Close Calls is part of a promotion to try to help the struggling local record stores. That's why the video was released on recordstoreday.com. This is something Hank III is trying to do to help the common man. This is a good thing.
I know there are a lot of frustrated people because they do not have a local record store near them. Well first, this is part of the problem, that these places are becoming extinct, and Shelton is trying to help with that. Another thing to note is the big corporate stores like Wal-Mart SUPPORT POP COUNTRY music, but rarely carry lesser-known artists. Wal-Mart was actually a BIG reason the Straight to Hell took so long to get out, because Curb Records had to produce a 'clean' version for Wal-Mart shelves.
So if you want an LP copy of DRRP, find a local record store somewhere.
I'm lucky that I got two record stores in my town. I went in there an explained what Hank III was doing, and the owner got really jazzed about it. When you go to order your copy, try to convince the people that they need to order more for the store, because Hank III is trying to support them. I'd already pre-ordered a copy of DRRP through Amazon, but I'll just give that away to someone who needs to be introduced to the music.

---
Jerry Reed RIP

The GREAT Jerry Reed, a REAL guitar player, actor, session musician, songwriter died yesterday in Nashville. I was introduced to Jerry when I was a kid, through none other than:

Man I loved that song at the end. Jerry had a really cool boogie woogie back beat to a lot of his stuff. I never liked his big hit 'When You're Hot You're Hot,' I thought it was a bit song that was a little too over the top. But I've always known Jerry as one of the best, but also non-traditional finger pickers in Nashville. Watch him school his good friend Chet Atkins:

Elvis was recording Jerry's 'Guitar Man' on an album, and couldn't get the sound he was looking for. So Elvis called up Jerry who was out fishing and told him to get up to the studio. Only Jerry had that non-traditional style that made the song work.

Jerry also acted in one of my favorite scenes in a movie ever. I tried to find it on YouTube, but couldn't. It's from Smokey and the Bandit , which he also sang the theme song to. He's hanging out at a bar. Some biker smarts off to Jerry's hound dog, so Jerry bows up and starts throwing. Of course all the bikers gang up and beat his ass. He slunks back to his semi-rig, all hunched over, but then he looks up to see all the motorcycles parked right in front of him. He cracks a smile and barrels over all of them in his rig.

Payback is hell.

Good ol' Jerry Reed. A TRUE COUNTRY HERO, and he will truly be missed.

PS: If you're wondering what happened to my last blog, I'll address that hopefully tomorrow. I'm running long here.

More Mudding/Long Hauls Videos Coming Soon !!!

Just wanted to let you guys know, it has come to the attention of the Outlaw Country Blog that there will be a different edit of the Long Hauls & Close Calls video DONE BY HANK III himself that will be made available in about 10 days or so, and at the same time, they are also going to release a FULL MUDDING video with more footage of the actual mudding event down in Mississippi where a lot of the 'Long Hauls Close Calls' footage was shot.

KICK ASS!!!

Also, for those of you wondering who did the video, it was directed by Gene Joanen of TAI Media www.taimultimedia.com and Andra Dalto. The post editing was done by Hank III himself and Ryan Thornburg. I like to give behind the scenes people their due.

And if you were wondering, that is NOT Gary Lindsey, Hellbilly and Assjack's Screamo guy, yelling in the video. That is none other than the grandson of Hank Williams himself.

Criticism of Long Hauls and Close Calls.

As my regular readers know, if someone is out there criticizing Hank III, I like to meet that criticism head on. The main criticism I hear is that he's just riding on his name, or that he doesn't give a shit about the money because he got a bunch coming to him when Jr. kicks it, or lately, that he's a sellout. You can sift through my previous blogs and there's plenty of info on why all of these criticisms are bullshit.

But the criticism that I have not always agreed with, but have always said is a gripe I can understand is when people say they like his music, but don't care for the cussing, drugs, devil stuff, etc. Needless to say, this 'Long Hauls Close Calls' video has brought these people out of the woodwork.

First off, I just want to say that as the author of this blog, and a music critic, I think 'Long Hauls Close Calls' is the best song Shelton has ever written, and I mean that. And it might be my favorite song he's ever written.

Musically speaking, it is one of the most technical songs he's ever written. I'm no more than a hack guitar player, but pretty much every Hank III song I've ever wanted to learn I've been able to. Not to discount his songs, but Shelton writes simple songs, and their greatness is in their simplicity. But 'Long Hauls and Close Calls' is crazy. I don't even know where to begin playing it, and furthermore, I think the lyrics are great.

But some people don't think that. I've heard from a few readers who've told me that, but to show that I'm not just picking on them, I pulled these comments off of YouTube:

"im sorry III, but you need to go back to the basics. this shit just dont have the same feeling……….. "

"more bonehead shit from one of my favorite people. this shit ain't you III, go back to singing from the heart."

The first time I heard the song was at a concert. Then I found the YouTube:



Man, it still gets me going.

My guess is the main beef SOME (and I emphasize some) people have I think is with the screamo parts of the lyrics, and also maybe the devil imagery in the video.

For me personally, I'm not bothered by the devil stuff and I think the video overall is superbly made. But I have to admit, when I heard the recorded version of the song, I thought the screaming part of the lyrics was a little over the top. But it didn't ruin the song for me at all, and hey it's III's song. I've been helping him fight for his creative control, and it ain't my place to tell him what to do.

The reason I'm writing this is because I wanted to point out two things to people who have a problem with Long Hauls Close Calls:

1. Country, folk, blues, and rock singers have been singing about the devil ever since those genres began. The music might be harder, but the themes for the most part are still the same. I'll give you an example: This song has also been called 'The Devil Is My Friend'. Here's one of my favorite songs from the 'Grateful Dead' called 'Friend of the Devil:'



Now who's going to call Jerry Garcia 'over the top' or 'extreme' just because he wrote this song? The devil is a folk character of modern music, and always has been. Is Hank III a Satan worshipper? Hell, I don't know. Really don't know if its my business. I just like his music. If he tells me to go rape my neighbor and sacrifice a goat to the dark angel, I'll re-evaluate then. But for now, I'm on board.

2. If you have a problem with Long Hauls Close Calls PLEASE LISTEN TO THE REST OF THE ALBUM!!!

Listen, I don't have a copy of it, but since my day job makes me a member of the media, I have been able to listen to it. LHCC is by far the most brutal song on the album, and if you like the slow stuff or the mid tempo stuff, it's got plenty of that. In fact I think a few of it's songs are the most accessible songs III has done since Rising Outlaw, and 'Stoned and Alone,' in my opinion is his best slow song ever.

Weather you agree or disagree, feel free to leave your opinions here. I just want to emphasize that Damn Right Rebel Proud has something for everyone. I wish they would've released a video for one of the slower songs too, but he's got plenty of those out there. Just give it a chance, and don't give up on III.

First:

On Friday I got my much belated, but much anticipated Metal Farm Magazine in the mail!

Now I knew there was going to be pictures of Hank III done by Keith Neltner and Reinstate Hank Williams content, BUT NOBODY TOLD ME ABOUT THE HOT CHICKS!!! Dude, there are hot women in their skivies in this thing!!! And the presentation and goodies I got with it well made up for the long arrival time. Check it out: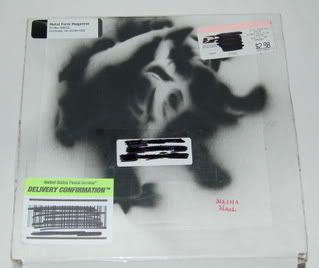 I mean they put the damn effort out to SPRAY PAINT their bull emblem on the box! (Yeah, I had to black out my address, lest the Curb operatives who monitor this thing figure out where my hideout is) And then included were a Metal Farm patch, two stickers, and a Reinstate Hank postcard in a personalized envelope!
If you haven't ordered your Issue 1, get on that, there's a limited number of copies, and after the release party coming up in Cincinnati (click for details), there may not be any left.
Next:
I got this bad boy in the mail: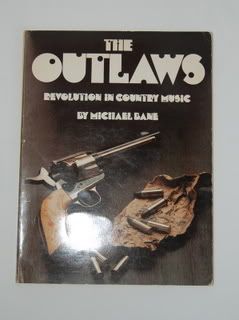 This is the extremely rare, definitive book on the original Outlaws of country music, and it is full of pictures that I've have never seen, and have probably never been published on the internet. Pics of DAC, Willie, Waylon, Tompall, The great producer 'Cowboy' Jack Clement, Hillbilly Central, all kinds of stuff. I'm hoping to scan them all in over the coming weeks and get them on the internet because THEY ARE AWESOME!
There's also a bunch of info on David Allan Coe and Tompall Glaser. Most books I've read just glance over these dudes, so hopefull I can cull out some kick ass stories for you guys.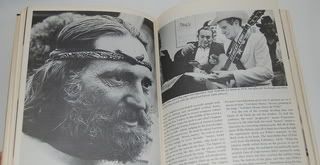 THEN:
I heard about Texas-born singer/songwriter turned pop country sellout Pat Green got KO'ed by a flying can of beer!! AHHHHHHHAHAA!!!
I got to admit, I thought Pat Green had a little something when he first showed up on the scene in Texas, but then he proceeded to lose the cowboy hat and sell out as hard as he could. I'll tell you, if you want to know if a male country guy has sold out or not, look from the bleached tips in the hair. That's a sure sign of sell-outedness.
AND FINALLY:
Hank III drops this bad boy down on Monday:
To see a bigger and better version, go to Record Store Day.
What's cool about them releasing the video on this site is the same reason it's cool they are releasing Damn Right, Rebel Proud on Vinyl. Hank III sees that the local record stores are struggling, so he's trying to help them out. In my opinion, this is COOL AS SHIT, and yet another reason that it's clear that Shelton has his heart in the right place.
So do yourself a favor, hunt down your local record store. Find one. And pre-order the vinyl version of DRRP. It comes with the CD too!

I know a lot of you are still miffed even though we finally got a release date for Damn Right, Rebel Proud simply because Curb Records has been jacking Shelton around for so long, and I know even more of you are miffed that we got to wait four months for it.

Listen, all I got to say is that I'm pissed too, but you just can't release an album through a major label overnight. This shit takes time. And something that might've pushed the project back a little was when they added the new tracks, 'Three Shades of Black' & 'Working Man.' And hell, I don't blame Shelton for trying to cram as many tracks on this album as he can, because you never know when the next one is coming out.

If Curb Records does anything to help promote Damn Right I'll eat my hat, but it looks like on this album Hank III ain't gonna wait for Curb and he's going to do his own promotion. But to do this you have to space things out on the calendar properly, not considering actually making the CD's and getting them to the stores.

For example this was the last and only music video ever made for a III song, off of his first album:

So III this time said fuck it, if Curb isn't making any music videos, I'll do it my derned self. That's where the 'Mud as Fuck' shoot came in, and the video for 'Long Hauls and Close Calls' is being made from that footage.

By the way, rumor is the 'Long Hauls' video is coming out September 30th. In my personal opinion, that song is the best one Shelton has ever written, and since it contains no cussin', it could be a break out radio hit if they can just figure out what format to play it in.

But if you're itching for the new III and are pissed off it's going to take so long, all I can say is that I feel your pain, but pretty much there's nothing we can do. I'd hate to push for it to come out sooner, and then the production or distribution or promotion is poor on Curb's end.

But if you're itching to get your listen on, here's some stuff you can check out:

–The proverbial house organ of freehank3.org, Tim Pop Live has a new show up. There's also a spanking new podcast called Punk & Beans Radio . There's only one episode up, but what I've heard so far they play Hank III and a lot of the old school country stuff.

Another cool thing to check out is and to fill your Hank III jones is THIS SITE . Click on "Hank III's Wild Ride" and then you can arrange video and watch them in your own order and all this stuff. This site is SICK!

Another thing we can do to make sure that Damn Right makes it out on October 21st is to pre-order it online through Amazon or whoever, or through a local music store once it is available. If there are enough orders, this kind of obligates Curb to put the CD out, and also labels will sometimes judge the promotion they will put behind an album or even how many albums they'll make by the amount of pre-order sales, so this is another way we can help Shelton out. I'll keep an eye out and let you know when and where you can pre-order online.
Support SCM and start
your Amazon shopping here