Hank Williams III is going to be on Fuel TV's Daily Habit on November 7th at 'Prime Time' (sry, that's all I got) and twice on November 10th. So consider your ass told. I'm guessing it will also be archived on their site, and maybe one of you video people can roll tape on it.
---
Reinstate Hank Hits 30,000 Signatures !!!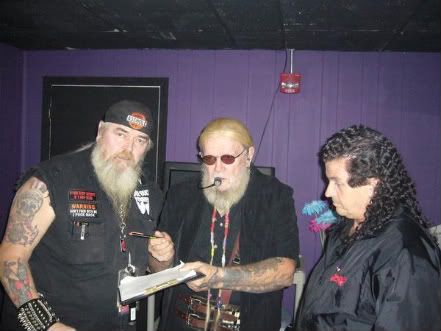 You see that? That's none other than the abominable David Allan Coe signing the petition to Reinstate Hank Williams to the Grand Ole Opry, administrated by Mr. Bandana . In fact Mr. Bandana has also delivered the signature of Dale Watson and hundreds of spectators at recent Coe, Watson, and Marshal Tucker Band concerts.
The Reinstate Hank petition has now crested the 30,000 signature mark (30,624 at last glance) and signatures have been flooding in from all over the WORLD thanks to our International Woman of Mystery Restless in Amsterdam .
And look what Wayne and Cathy hauled in: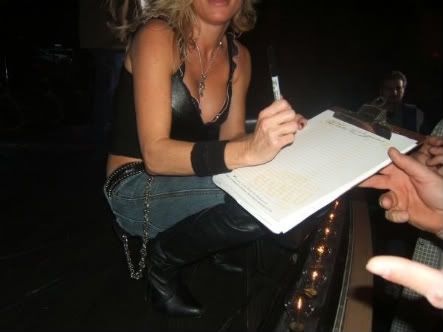 No, I'm not talking the leather emboldened cleavage, though that is mighty nice. I'm talking about that Tonya Watts John Hancock on the Reinstate petition.
And of course, none of this wold be possible if it wasn't for Johnny Wright Jr. putting together the printable Reinstate Hank petition sheets that ANYBODY (that means you) can print out and take to concerts, festivals, etc. and fill up with the signatures of people tired of The Grand Ole Opry exploiting Hank Sr's likeness at every turn.
So a lot has been done, but there is still a lot to do. Not everyone can sign up a celebrity, but everyone can sign, so if you haven't then . . .
© 2022 Saving Country Music