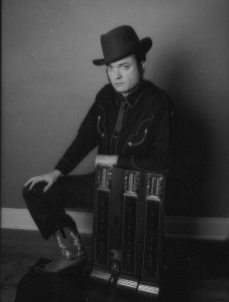 Andy Gibson is a living example of the essence of the modern Outlaw/Underground Country movement; that essence being an undying loyalty and respect for the traditions of country music, while forging new traditions from the enthusiasm of a new generation of REAL country music performers and fans.
As a studio musician, performer, and DIY studio owner, Andy Gibson's impact cannot be understated, and his fingerprints are all over the music that acts as a counterbalance to the overproduced, unimaginative, and all too predictable modern Nashville sound that lacks the authenticity that made country music a relevant modern genre.
The magic of Andy Gibson is his versatility and his willingness to play whatever role is necessary to see that real country music happens.
As a musician, his signature instrument is the non-pedal, stand up steel guitar, and with ease, he can re-create a nostalgic-feeling tune from his legendary mentor Kayton Roberts, then turn around and belt out two breaks of screaming steel while staring at the back of Hank Williams III, and bring a mosh pit full of 20-somethings with tattoos to their knees. Andy also plays the dobro, as well as a little guitar, banjo, and mandolin.
As a performer, Andy Gibson has played and toured with such acts as Wayne "The Train" Hancock and Bob Wayne & The Outlaw Carnies, but possibly his greatest contribution has been to the sound that has made Hank Williams III one of the leaders of the modern Outlaw Country movement. It is hard to imagine Hank III without the twang and wail bleeding and screaming from Andy's Fender Dual Professional on stage right, or stimulating your country soul on recordings such as Smoke & Wine or Stoned & Alone.
Andy Gibson also runs a studio out of his home, and like a modern day Tompall Glaser, is helping REAL country music musicians record music that it true to the intentions of the songs and artists, and free of the limitations and creative vampires that haunt most modern studios, especially the ones within the influence of Nashville. Artists and bands that Andy has recorded include The .357 String Band, Bob Wayne & The Outlaw Carnies, Black Eyed Vermillion, The Honky Tonk Hustlas, Rachel Brooke, and Moot Davis; not to mention helping Hank Williams III record his album Straight to Hell.
Andy Gibson is an excellent example of why the behind-the-scenes and sideman's impact can never be overlooked. It is hard to envision the Outlaw/Underground country movement having such traction, enthusiasm, grass roots support, and class without the work of one Andy Gibson.
In fact if I had to describe Andy Gibson in one word, that would be it: Class.
---
Some Albums Andy Gibson Performs On or Recorded:

Hank III – Straight to Hell

Hank III – Damn Right, Rebel Proud

. 357 String Band – Fire & Hail

Moot Davis – Already Moved On
© 2022 Saving Country Music