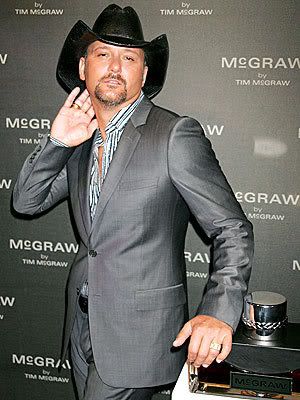 Well, well, well.
I had many other things I was planning to write about today, but I'll always preempt my plans to bring you a juicy news item involving a spat between the evil empire of Curb Records (insert Darth Vader procession music here), and a pop country perfume peddling pussy. Uh cat.
That's right my friends, Curb Records and Tim McGraw are letting the verbal daggers fly. Apparently Curb is releasing a third Tim McGraw "Greatest Hits," album, even though Tim has only released one studio album since his second "Greatest Hits" album came out. Tim is also waiting on a new studio album to be released, which of course Curb Records is sitting on to extend McGraw's contract out for as long as possible before Tim tells Curb to shove it.
"I am saddened and disappointed that my label chose to put out another hits album instead of new music."
Aww. He's saddened. Go cry in your overhyped toilet water.
"I've only had one studio album since my last hits package. It has to be just as confusing to the fans as it is to me. I had no involvement in the creation or presentation of this record. Sure, I love the songs and I don't want to take anything away from all the creative people who were a part of making those records. But the whole concept is an embarrassment to me as an artist. In the spirit of an election year, I would simply say to my fans 'I'm Tim McGraw and I don't approve their message."
You know I hate to side with Tim McGraw, but I have to on this one. This is ridiculous. Curb is clearly holding Tim's new music hostage to squeeze every single dollar they can out of his old stuff before he leaves the label. Sure, I think Tim's music should be quarantined like germ bomb ingredients, safe guarded to never infect the airwaves of our great nation, but hey, wrong is wrong.
And if there was ever anybody out there that thought that Curb Records was a fine label and just treated Hank Williams III poorly because of the graphic nature of his lyrics, now you can see that Curb deals unfairly with even the artists that are willing to sell out as hard as they can for fame and money.
And Hank III and Tim McGraw are not the only examples. Curb did this same thing to LeAnn Rimes a while back. I wrote a blog about it and you can read it by CLICKING HERE .

So yeah, if you thought that I was being an old soldier who didn't know when to give up the fight keeping this Free Hank III thing going, now you can see how important it is to stay on our toes until Hank III is free of these monsters.

Other Stuff:

–A review of Hank III's last concert in Nashville made it in of all places the CMT.com blog, and you can CLICK HERE to check it out.

–The petition to Reinstate Hank Williams is nearing the 30,000 signature mark, thanks to a lot of hard work by a lot of people! But we still got a long way to go!



© 2021 Saving Country Music