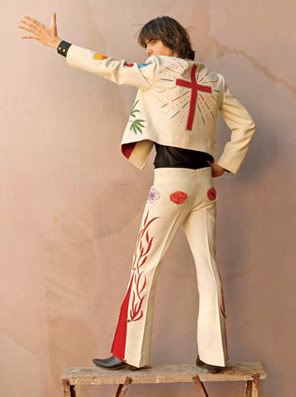 This is a dude I probably would not write about under normal circumstances. I think he did have a huge influence on the Outlaw Country movement, but it would be a stretch to call him an Outlaw. But I've had numerous requests for a Gram Parsons blog, so here we go.

This isn't gonna be a biography, so if you want to totally geek out you can click here. What I'm concerned about is setting the record straight about this dude, explaining his impact on country music, and hopefully introducing people to one of the greats out there.

A lot of people typecast Gram Parsons as the one responsible for 'California Country' or 'Country Rock' acts like the Eagles, which some of you might like, but others will see as the popifying of country. It is probably a true statement that without Gram there would be no Eagles, but there would also be no Emmylou Harris, or the Rolling Stones album Sticky Fingers
.

Gram misconceptions:

—-Gram is not a Californian, which even though I hate Cali's influence on our culture in some ways, Dwight Yoakum, Buck Owens, and Merle Haggard are all Cali's. But Gram was born in FLA, raised in Georgia, and buried in Louisiana. He did rise to fame in Cali, but was a southern boy by birth.

–Gram never was an official member of 'The Byrds.' He was hired on as a salaried concert keyboardist.

–Gram might have inspired 'The Eagles' but he publicly disdained their music. In fact as the 60's turned to the 70's, Gram was chided in the 'California Country' scene for being "too authentic and traditional." Sounds like my kinda guy.

Gram Bands:

–His first major band was not the Byrds, but the 'International Submarine Band' that was formed in Boston around 1966. This in my opinion was when Gram did some of his best stuff. Luxury Liner is one of my favorite Gram songs:



–Though he was never an official member of The Byrds, he asserted great influence on their Sweetheart of the Rodeo
album, really trying to push them in the country direction, and insisting the album be recorded in Nashville instead of LA.

–The 'Flying Burrito Brothers' with Chris Hillman came next. This is probably my least favorite Gram project because it was a little too hippie dippy for me, but what Gram was doing was steering all of these psychedelic 60's musicians into the direction of country music, showing them that it could be 'cool and hip' and that there was a lot of soul and truth to the music. 'The Burritos' are also referenced in David Allan Coe's 'Willie, Waylon, & Me' song. Check out the nudie suits on these dudes:



–Gram might've thought The Burritos were too hippy dippy too because the project was short lived. Gram moved on after that to do two solo albums which were some of his best work: G.P./Grievous Angel
. On GP Gram covered Outlaw Tompall Glaser's 'Streets of Baltimore' song and introduced the world to Emmylou Harris.

Gram's Influence:

Gram Parsons may have not been the most amazing or prolific songwriter, or a superb musician, but his influence on rock and country cannot be overstated. He literally introduced country music directly and indirectly to millions of people, and I'm not kidding. He set the table for The Outlaws of country music, by showing many people who were not traditional country music fans how great country music could be. He was the Outlaw of the California Country scene. It would be tough to list all of the people Gram influenced, but here are two big ones:

Emmylou Harris:

She is being inducted into the Country Music Hall of Fame this year, and if it wasn't for Gram Parsons, we likely would've never heard of her. And if you haven't heard of her, well then you need to get that situation corrected. She demands a whole blog herself. Gram and Emmylou singing Tompall:



The Rolling Stones:

Gram's influence on the Rolling Stones is massive. He was friends with Mick Jagger and Keith Richards especially, and is said to have influenced songs on Let It Bleed [DSD]
,Exile on Main St.
, and one of my favorite albums of all time, Sticky Fingers
. There is a version of 'Honky Tonk Women' on Let It Bleed called Country Honk
that is more than rumored to have been written at least partially by Gram. (That in my opinion is the BEST version of that song BTW) And Gram actually covered 'Wild Horses' from Sticky Fingers before the album was even released.

That era of the Rolling Stones produced some of the best music of the day, and it had to do in large part with Gram's influence.

Death:

Gram Parsons liked his drugs and booze, and died from overdose on a mix of alcohol and morphine in Joshua Tree, CA in 1973. There is a crazy story behind his death, and there a lot of branches that come off the Gram Parson's tree. I could write forever about this guy.

Even if you do not like the man Gram Parsons, or his music, it is hard to think of a bigger ambassador for country music. He was someone who really went out and tried to show people all that country music could be. And he didn't do it by mistake. He really believed in country music, and wanted everyone to see its simple beauty, honesty, and that it could rock. There might not be someone who was not a prolific songwriter or a superb musician, but had such a wide impact on REAL country music.
And for that, Gram parsons will always be tits in my book.
© 2022 Saving Country Music