Yesterday, Hank III played another show at Layla's Bluegrass Inn in Trashville, TN. Just as a disclaimer, I dropped a big hint that this would happen in my last blog, but because it wouldn't behoove anybody if the word got out so much that Layla's was shut down by the Po Po or the Fire Marshall, I kept it on the low.

First off, we all need to thank Cathy's Reinstate Bandwagon for giving me a full report, and for taking over 200 pictures which can be seen by CLICKING HERE. Allison, who supplied us with pictures for the show last week also took some new pics that can be seen by CLICKING HERE.

Some notable people in attendance above Cathy, her squeeze Wayne, and Allison, were Trooper's Mama, Hank III's mama, and none other than a very drunk Jesco White, who came to the gig after playing at the Ryman with The Black Keys. Also in attendance was Tonya Watts and Blake Judd of Judd Films WHO WAS FILMING!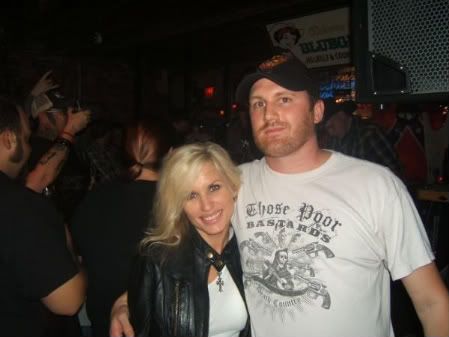 Tonya Watts & Blake Judd.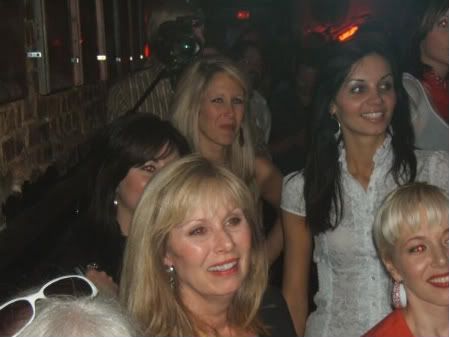 Hank III's madre on the left, and a girl I'd like to meet in the back.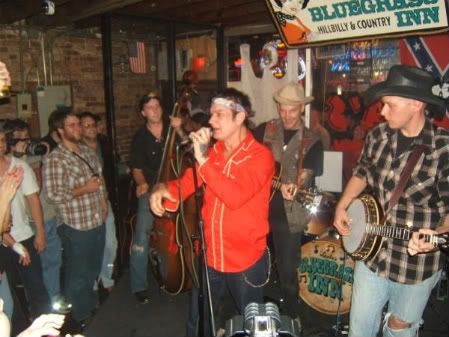 Jesco White, higher than a Georgia pine.
Wayne saved a table for Shelton's mom and her friends, and then was quasi-security throughout the night, and kept the mosh pit at bay. Haha, nice Wayne !!! Jesco was so drunk he started falling into the crowd (see pics). And a good time was had by all, at least the ones who can remember being there (hehe).
New Bass Player
I still haven't gotten any confirmation that Joe Buck is not the bass player for Hank III, but that's been the rumor for a while, and I'd say at this point everything is pointing to that rumor being true.
The new bass player is Zach Shedd.
If you go and look at his calendar, it says that Hank III is playing on Jimmy Kimmel on October 21st, the same day Damn Right, Rebel Proud is being released, but at this point I CANNOT CONFIRM THAT. He might be playing another big show like that, or he may not play any at all. Stay tuned and I'll let you know as soon as I hear something.
I know a lot of people are pissed about Joe Buck leaving, but listen, Joe Buck has got his own thing going on right now. In fact he just started touring the Midwest. And I have to say it, though it might piss some of you off: Nobody will be able to replace Joe Buck's star power and stage presence, but Zach Shedd is a much better slap bass player. That's just the way it is.
© 2022 Saving Country Music