ARE YOU READY FOR SOME FOOTBALL ?!?!
Well your ass will have to wait till September.
This is not going to be a roasting of Hank Williams Jr. I know that lately it seems like he's whoring himself at every turn on CMT, and that he hangs out with Kid Rock and all that. But he's an oldtimer, and I grew up being taught to respect the oldtimers.
It seems like when I'm looking at people's profiles, a lot of people like Hank Sr. & Hank III, but a significantly less number like Hank Jr, or maybe they like 'some of his stuff.' I personally do like 'some of his stuff.'
Some of those old Hank Jr. albums that Curb sells for $5.99 are good for one or two songs a piece. One song off his Habits Old & New album called 'All in Alabama' is one of my favorite country songs ever. it is about a time he fell off a mountain in Montana and almost died. Another one I like is 'A Whole Lot of Hank' off of Strong Stuff that a lot of people have never heard. But even in the old days, he seemed like the Nashville scene's answer to Outlaw Country, instead of a true Outlaw Country artist himself.
But the reason I'm writing this is because wanted to dispel the misconception some people have that Hank Williams Jr. is somehow bankrolling Hank III, or that Hank III is not ever worried about the money because he knows when his dad kicks it he's got a big chunk of cash coming to him. Hank III is all about the music, THAT is why he's not worried about the money.
I really have no idea if Hank III has any kind of inheritance coming to him, but from everything I've read, Hank Jr. has done very very little to help Hank III out financially, from when he was growing up to now. And something tells me that as time goes on, and chance Hank III did have at some inheritance is dwindling. Hank Jr. only saw Shelton once or twice as year as he was growing up, and all indications are that they are not close at all now.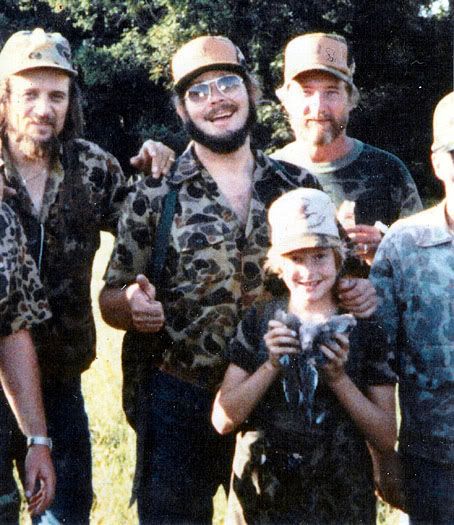 (Shelton hunting with Hank Jr. & Waylon, and the origin of the lyric 'I remember watching 'ol Waylon, when he was shooting his shotgun.')
When Hank III was born, Mike Curb, Grand Master of Curb Records was in the room. Mike Curb and Hank Jr. are very good friends. Hank Jr. was a Curb Records artist from the beginning in 1979, and remains one today. Whatever kind of 'outlaw' persona Hank Jr. tried to perpetuate back in the early 80's, he's clearly shied away from that now.
As for Hank Jr. & Hank III's relationship, this was written in the Oregon Music Guide back in 2004:
"It appeared to be momentous occasion when press releases announced that the two Hanks would be performing together for the first time at a Grand Ole Opry show marking the 50th anniversary of Hank Sr.'s death. The only problem was that the youngest Hank never agreed to do it.
Signing on to perform 'Howlin' at the Moon,' Hank 3 declined his father's invitation to come out on stage to perform 'I Saw The Light,' telling his dad, 'I'm in a band called Superjoint Ritual, right now, and all kinds of weird shit and I don't feel like I'm seeing the light very much, these days.'
In an act that he claims is typical of his father, Hank Jr. ignored what his son said and asked him to come out during the show. The only problem was that Hank 3 was sitting in a bar with his friends and not even there to take the stage.
Since that night, the two have not spoken.
As soon as he mentions the lack of contact between him and his father, Williams follows it up saying that he still respects his father's music…or, at least, 1987's Born to Boogie and its predecessors. It's one of the few positive acknowledgments he gives of the music coming out of Nashville."
I'm not trying to stir the pot between Hank Jr. & Hank III. I just don't like it when I hear people talk about how Hank III doesn't care about the money because of his daddy, or that his daddy is helping him out in any way, because all indication are that he's not.
In fact if you want to know who Hank Jr. is helping out, watch this and see who Hank Jr. refers to as his 'Rebel Son.'
I only know of one Rebel Son and something tells me they would have some choice words for Kid Rock.
If you don't mind me saying, that song fucking sucks. And Hank III has proven the 'F' word DOES have a place in ol' country.
PS: I know my blogs are getting longer and longer. I can't help it, I'm a geek about this shit.
© 2021 Saving Country Music