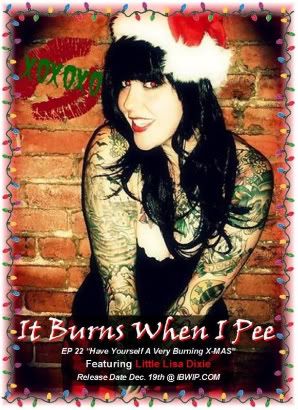 The It Burns When I Pee Podcast has just released their latest podcast: Have a Very Burning Christmas with special guest Little Lisa Dixie.

Great music, great interview with Little Lisa, hilarious stuff when the IBWIP hosts do a gift exchange (they had me damn near in tears it was so funny),and you might even hear a commercial for a website that is trying to save country music. Hmm, wonder what website that could be?

There is also music from Nine Pound Hammer, the hillbilly madman Zane Campbell, and Mr. Chill And The Witnesses from up Canada way. Ay.

IBWIP says:

"Here we are at the end of 2008. It's been a wild ride here at Get Your Hank On Studio. In the season of giving we bring you Episode 22 "Have Yourself A Very Burning Christmas". In this episode Blake, Norma Jean, and Creepy Guy are all back in the studio together with special guest NTBNTBBTOB! We've wrapped up a great show for you and hope that you enjoy it.So sit next to the fire, snuggle up to that special someone and wait for Santa to come down the chimney while listening to another great installment of It Burns When I Pee."

Oh, and they also did a vidcast of the making of the episode, which I suggest you watch AFTER you listen to the episode, cause it'll make the podcast funnier if you listen first, and the vidcast funnier after you've listened to the episode.

Here it is when you have some time carved out:

Live Streaming by Ustream.TV

Not to take anything away from the other great podcasts out there, but IBWIP is one of the funniest, best-sounding, and best-produced podcasts out there. They really put a lot of heart behind doing something that doesn't make them any moeny, and in the end probably costs them money. But they do it for the love of the music and because they have fun doing it, and all they want in return is your ears.

So pony up people!
---
And speaking of IBWIP and double broadcasting:

Like I always say, some of the best things about these blogs is the comments. I have such great readers that offer excellent insight and information. But if you're reading on savingcountrymusic.com and not The MySpace Site you might wonder what comments I'm talking about.

That's because except for Blake Clayton from IBWIP, very few people comment on the SCM side. So if you're reading these blogs, on either site, please feel free to comment, positive or negative.

It would be great if we could get that same great dynamic and informative comment section we have on MySpace on savingcountrymusic.com for these blogs. And hey, maybe some of you MySpacers could ramble over there every once in a while and drop a line. Maybe it would wet the whistle so to speak.


© 2022 Saving Country Music