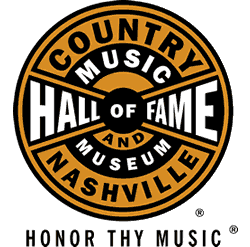 I've said it many times before. About the only country music institution you can count on nowadays to honor the old greats and preserve the traditions of REAL country music is The Country Music Hall of Fame. But unfortunately like so many of us they are having financial troubles.

I first read about this on Twangnation.com:

"The Country Music Hall of Fame has announced a $1.1 million fundraising campaign to pay a $750,000 bankruptcy settlement to keep Bill Monroe's Gibson F-5 Loar mandolin, Maybelle Carter's Gibson 1928 L-5 guitar and Johnny Cash's Martin D-35 acoustic guitar. Monroe's musical legatee, Grand Ole Opry star Ricky Skaggs, will lead the national appeal to music fans.

As a nod to Monroe, who was fond of passing out quarters to his fans, Skaggs will encourage fans to contribute to the Precious Jewel Fund in increments of 25. "This is an equal-opportunity challenge to the greatest fans in the world," he said. "Twentyfive cents is as significant as a gift of $25,000. The important thing is that we all stand up and be counted. After all," he laughed, "we'll want to have something to report when we run into Maybelle, Monroe and John R. at that famous gate down the road." Persons interested in making a tax-deductible contribution may do so online, by mail and by telephone."

To read more about this CLICK HERE.

A great way to support the Hall of Fame is to visit it if you are ever in the Nashville area. Until the end of this year they have an excellent exhibit up on the Williams' family that includes tons of Hank Sr., Jr., and even Hank III memorabilia.
---


Outlaw Magazine Honoring Waylon Jennings:

Outlaw Magazine, in honor of Waylon Jenning's passing on Feb. 13th, is asking people to pay their respects to ol' Waymore through the written word. Weather a poem, personal story, whatever, show your respects to one of the original Outlaw's, and one of the most important country music artists of all time. You can read more about this, submit your writing, and read the writing of others on the Outlaw Magazine MySpace Blog.
---
Also there has been even MORE goodies pledged for the prize of the Reinstate Hank Video Contest and some other developments, and I will update that all in an upcoming blog.

So stay tuned.


© 2021 Saving Country Music