How to Order Damn Right Rebel Proud on Vinyl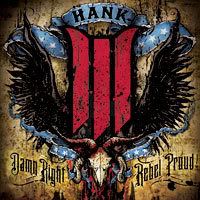 I have had a ton of people asking me about this, so please help me spread the word.
For those of you that haven't heard, Hank III's new album Damn Right, Rebel Proud is going to be released in limited quantities in a record version. The record will also include a copy of the CD. A lot of people have been wondering how they can order a copy.
HERE'S THE DEAL: The only way you are going to be able to order this record is through a LOCAL RECORD STORE. Unless something changes in the future, it is not going to be available online anywhere, or at any major retailer.
Why?
Because the release of this record, as well as the video for Long Hauls, Close Calls is part of a promotion to try to help the struggling local record stores. That's why the video was released on recordstoreday.com. This is something Hank III is trying to do to help the common man. This is a good thing.
I know there are a lot of frustrated people because they do not have a local record store near them. Well first, this is part of the problem, that these places are becoming extinct, and Shelton is trying to help with that. Another thing to note is the big corporate stores like Wal-Mart SUPPORT POP COUNTRY music, but rarely carry lesser-known artists. Wal-Mart was actually a BIG reason the Straight to Hell took so long to get out, because Curb Records had to produce a 'clean' version for Wal-Mart shelves.
So if you want an LP copy of DRRP, find a local record store somewhere.
I'm lucky that I got two record stores in my town. I went in there an explained what Hank III was doing, and the owner got really jazzed about it. When you go to order your copy, try to convince the people that they need to order more for the store, because Hank III is trying to support them. I'd already pre-ordered a copy of DRRP through Amazon, but I'll just give that away to someone who needs to be introduced to the music.
---
Jerry Reed RIP
The GREAT Jerry Reed, a REAL guitar player, actor, session musician, songwriter died yesterday in Nashville. I was introduced to Jerry when I was a kid, through none other than:
Man I loved that song at the end. Jerry had a really cool boogie woogie back beat to a lot of his stuff. I never liked his big hit 'When You're Hot You're Hot,' I thought it was a bit song that was a little too over the top. But I've always known Jerry as one of the best, but also non-traditional finger pickers in Nashville. Watch him school his good friend Chet Atkins:
Elvis was recording Jerry's 'Guitar Man' on an album, and couldn't get the sound he was looking for. So Elvis called up Jerry who was out fishing and told him to get up to the studio. Only Jerry had that non-traditional style that made the song work.
Jerry also acted in one of my favorite scenes in a movie ever. I tried to find it on YouTube, but couldn't. It's from Smokey and the Bandit , which he also sang the theme song to. He's hanging out at a bar. Some biker smarts off to Jerry's hound dog, so Jerry bows up and starts throwing. Of course all the bikers gang up and beat his ass. He slunks back to his semi-rig, all hunched over, but then he looks up to see all the motorcycles parked right in front of him. He cracks a smile and barrels over all of them in his rig.
Payback is hell.
Good ol' Jerry Reed. A TRUE COUNTRY HERO, and he will truly be missed.
PS: If you're wondering what happened to my last blog, I'll address that hopefully tomorrow. I'm running long here.
© 2023 Saving Country Music