Sorry I haven't been blogging much lately. Been under the weather and busy, you know. I'm working on some great blogs in this upcoming week, but here's a couple of quick things:
---


I had a BLAST last Thursday, hanging out in the chat room as the It Burns When I Pee podcast held a vidcast of their taping of the upcoming episode 24, scheduled to be released on Feb. 27th.

Glad to see a few of the other Free Hank III faithful there as well, and even Jahsh from Outlaw Radio was there IN PERSON. You can check out the recorded vidcast and all their previous vidcasts HERE.

IBWIP is the BEST monthly podcast and features REAL country music, great interviews, and lots of funny stuff. They're also running a contest, for fans of the show to take pictures in their bathrooms. Here's my entry: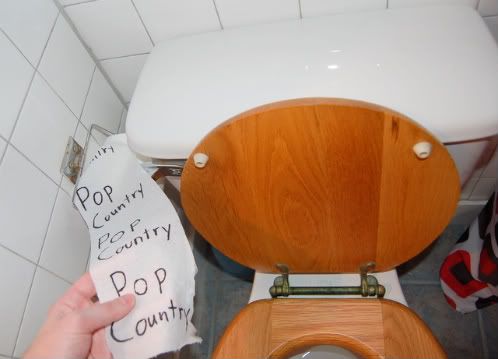 Beat that bitches!
---
Reinstate Hank Video Contest:

Though there has only been two entries in the Reinstate Hank Video Contest , I haven't given up hope yet. Hooter has supplied us with a big ol' stack of webcams, so if you want one on loan to make a video, shoot me an email.

Here is an updated list of the booty:

–Mary Robbins CD, Jimmie Rodgers CD, and merch stickers from Rachel Brooke, Metal Farm Magazine, & The Honky Tonk Hustlas from me.

–Sealed, spanking new 4 CD Hank III Collector's Edition
from Hooter.

–Brand new DVD of Seven Signs from Cathy and Wayne.

–CD's from the GREAT Brigitte London of Outlaw Magazine.

And a T Shirt from File 13 Clothing's Rebel Rouser Line.
© 2023 Saving Country Music