If Hank Williams had a daughter, her name would be Rachel Brooke.
Like so many of us, Rachel Brooke was born in the wrong time. Her classic style, and her simple and poetic songs fit much more snugly in an oval picture frame of tarnished metal and smoky glass than on CMT or Clear Channel pop country. She might be from Michigan, but this girl must have been touched with the songs and sentiments of the southlands and the weary West at birth.
The Rachel Brooke brand of old school country soul is true, and doesn't even give a hint of fake, stereotyped molding to fit a style or genre that happens to be hip at the time. It flows out of her as true and vital as breath. In other words, this girl is the REAL DEAL!
Her songs have that capacity to take you somewhere you haven't been for many many years, or to take you somewhere you want to be: in the depths of drunkenness and depression, or back home where all was right. Then she feeds it all through the effects of a warped record or an fuzzy AM radio to erase any tinges left behind by this modern antiseptic world with its polished existence, because the songs are not meant for this modern world or the people who dwell in it. They are meant for YOU, the person reading this right fucking now, the wayward soul rambling down the Lost Highway, and you can feel that in each twang of the guitar, and you can taste each tear as it rolls from Rachel's cheek to blot a garbled page of lyrics.
Now I need to lay down a disclaimer: If you think I'm being over-the-top describing this chick, you might be right, because I will be the first to admit that the great Rachel Brooke just down right does it for me. That voice, that haircut, whatever it is it gets my music pants vibrating. And if she doesn't do it for you, and you're a dude, well then, all that I can say is that you have no dick.
Watch this shit, and don't tell me that the way she says 'train' or 'daddy' or 'Alabam' doesn't get you going:
That was an old Hank Williams tune for those of you who didn't recognize it.
Rachel Brooke has played with powerhouses such as the .357 String Band and Slackeye Slim. She also plays with her pops Tiger Bear Jon.
Rachel has even played drums in a punk band:
Yep, that's her back there rockin' the cowboy hat and Misfits shirt, kicking you right square in the ass.
So do yourself a favor and hop on over to her site, listen to her stuff, add her, buy her CD. Hell by three or four of 'em. It's the right thing to do.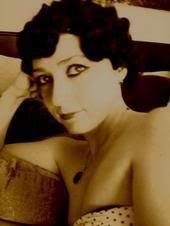 © 2022 Saving Country Music