There's times when you can see (or hear) the grass roots of REAL country music growing stronger right before your eyes (or ears), and this last Friday night was one of those times when Blake from the It Burns When I Pee podcast made an appearance on none other than Big G's Texas Roadshow!

Be ready for IBWIP's Episode 22 to be released on Dec. 19th, and Big G just announced that The Roadshow is now going to run Tuesday through Sunday nights. This is good news for us nocturnally-challenged people. I've sucked on a few necks in my day, but I'm no vampire, and so the more Roadshows on the weekend nights instead of work nights means more Roadshow for me!
---
You know, there might be some pop country artist whose music is more objectionable than Timberly McGraw's (Rascal Flatts, Big & Rich maybe). But it is hard to imagine anyone selling out as hard as this man does. I fell like a broken record about this dude, but I swear if someone approached him to peddle tampons, he'd do it.

First it was toilet water: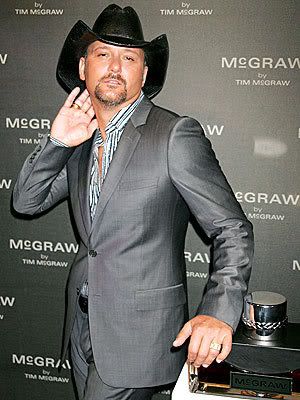 /Yes, that is real people. There is actually a perfume called "McGraw."

Then a few weeks ago, I found out that Tim McGraw had done a "duet" with the hip hopper Nelly.

WARNING: WATCHING OF THE FOLLOWING VIDEO MIGHT CAUSE VIOLENT PROJECTILE VOMITING!



"Uh, uh !!!"

Is that all these new hip hoppers have?

"Uh, uh !!!"

If Timberly and Nelly are so heartbroken as they seem in this song, I suggest Nelly just cross that split screen into Tim's cabin, and they can make love all night in front of the fireplace on the bear rug.

Now that's a match made in Nashville heaven.

And now it has come to light that Timbely, in an attempt to stay relevant and make up for the fact that he has no redeemable talent, has just cut a new song with 19-year-old R & B douche Chris Brown. Apparently Chris Brown was Billboard's 2008 Artist of the Year.

Eh, never heard of him.

From CMT:
" . . . But his (Chris Brown's) most surprising collaboration is with Tim McGraw, on a song called "Human" which has yet to be released. "It's incredible, he says. "I wanted to do something more along the country line. That's a bigger and different audience for me. I also did a song with the Japanese group called the Teriyaki Boys out of Pharrell's camp."

The Teriyaki Boys? WTF? I'd rather watch a sumo wrestler take a dump than listen to that garbage. I'd rather have a pair of chop sticks shoved up my ass sideways.

But the line I want you to remember from this story is: "I wanted to do something more along the country line. That's a bigger and different audience for me."

Remember this, because it is going to be important in a future blog.
© 2023 Saving Country Music