While poking around the Waylon Jennings MySpace page last night, I found this bad-ass picture, with a comment under it reading simply, 'Let's go save country music.'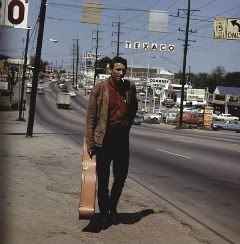 So what I say to all of you is, let's go save country music.
I've gotten a few messages wondering why we are not targeting Curb's other MySpace sites. At this point I'm thinking hell, let's fire with both barrels. So let's do the same thing we did to Curb PR: 1. Request to be their 'friend,' (it might take some time for them to appove you so be patient) and then let them hear that you want them to FREE HANK III. Steal any content off my page to post there. Post the 'Damn Right, Rebel Proud' album cover, or post the images that I have provided the code for.
CLICK HERE FOR CURB'S MUSIC PAGE
CLICK HERE FOR CURB'S MUSIC PUBLISHING PAGE
CLICK HERE FOR CURB'S MUSIC FILM & TV
I'll say it again, LEAVE CUSSIN' AT YOUR OWN RISK!!! Don't come back bitching to me that you got kicked off of MySpace because you told Mike Curb to go suck his mommas dick, or whatever.
BUT WAIT, THERE'S MORE:
The GRAND OLE OPRY has a MySpace site too.
Now before we go guerilla on their asses, I'm waiting to hear how the Reinstate Hank camp would prefer us to proceed, so add the Opry as a friend,
BUT DO NOT LEAVE COMMENTS YET !!!
I don't want to piss the Reinstate dudes off for stepping on any toes. But for sure do not leave any 'FREE HANK III' comments because our beef with them is about reinstating Hank Sr. and has little to do with III, and DON'T LEAVE ANY CUSSING cause I know this is something they frown upon in that camp.
Finally, just in case I personally get kicked off of MySpace for being a MySpace 'bully' (I've had a few people email me saying that my goose is already cooked) then I will restart this shit immediately. I will leave comments on Hank III's BAND site so you can find me there, and please do whatever you can to help spread the word and get me back in the loop if that happens.
By the way, just in case you're wondering, I'm not doing all of this shit to vent anger or to make myself feel productive in some hippie protesting Michael Moore style bullshit. I am honestly trying to FREE HANK III, and that is my one and only goal.
So having said all of that, let's soldier up hellbillies, and let's go and save country music.
© 2021 Saving Country Music