Reviews keep coming in for Damn Right, Rebel Proud . Here's a new one from The Boot:

"Hank Williams III, as his name suggests, is third-generation country-music royalty. But the grandson of Hank Williams, and son of Hank Williams Jr., unabashedly blends the family tradition of "good ol' country," with some startlingly darker fare, and as such draws audiences that are likely far more diverse than his legendary grandfather could have ever imagined.

'Damn Right Rebel Proud,' due October 21 on Sidewalk Records, is Hank III's sixth album, and it's aimed at his usual, unusual crowd — a hodgepodge of working-class country-lovin' folks, ready-to-party-hearty college students, and the edgier punk-metal "kids in black," as he calls them.

"Most of the time everybody's gettin' along," says the 35-year-old, who's commonly referred to as Hank III, or sometimes simply "III." "Most of the trouble we've had has been with the security, not the kids. I'm still tryin' to keep one half happy and the other half satisfied by flip-floppin' [between shows that cater to the country, punk and metal crowds]. We're just doin' what we're doin', and people see the realness in that."

Blurring the musical lines further are tracks like the 10-minute "P.F.F.," which III describes as "a high-energy, get-drunk singalong." Dedicating the symphony in three movements to the late shock rocker G.G. Allin, who died at 36 of a drug overdose in 1993, he says, "The hobo kids, the train-hopping kids, they all love Hank Williams and G.G. Allin."

Things get much, much darker on the controversially-titled "Candidate for Suicide." But, as Williams explains, "Just
because you're a candidate doesn't mean you're gonna go through with it. I've got no respect for anyone who tries to take the easy way out. Unless you can't take care of yourself or stuff like that, I'm always standin' for you to hold onto life as much as you can. There's a huge amount of depression out there, and that's really what the song's about. 'Candidate for Suicide' is dark, but it's not sayin' do it; it's just talkin' about how it crosses your mind a good bit."

Hank III recently completed the first video from the album, for the trucker anthem "Long Hauls and Close Calls.""

To read other reviews out for DRRP, CLICK HERE. There's also news from hank3.com that he's also done interviews with Thrasher and Juice magazines, so as soon as those drop I'll let you know.
---
What is Sidewalk Records?
Had a bunch of people wondering this, so if you haven't heard, here's the story:
Sidewalk Records is just a subsidiary or imprint of Curb Records. Curb did not let him out of his contract or anything. Sidewalk was actually the first label Mike Curb ever started. He started it in 1966 in Hollywood, CA and it mostly handled soundtracks for movies, though a few artists like Davie Allan appeared on the label.
I am being told by my sources (hehe) that DRRP is being released on Sidewalk for 'Religious Reasons.'
Now my first reaction is to bad mouth Curb for not having the rocks to release it on their main label, and if they are scared of the repercussions, they should just release Hank III from his contract.
BUT, the thing is if Curb is worried about churchies and Opry people getting up their ass for releasing an album with such vermin, then how much do you think they will help promote it? BY RELEASING IT UNDER SIDEWALK, CURB CAN INSULATE THEMSELVES FROM A LOT OF HEADACHES, AND PROMOTE THE ALBUM WITH LESS FEAR OF THE REPERCUSSIONS.
And people, it's still early, but I'm telling you, there have already been more and better reviews out there for DRRP than there was for Straight to Hell, and the album isn't even out yet! I'm not saying I expect Curb to do everything they can to promote the album, but if releasing it on Sidewalk helps them promote it better, I say AMEN!
Something else a little off topic, but I know some of you are wondering why Hank III is releasing so much merch.
Merch is one of the few ways Hank III can promote himself without having to go bankrupt to do it. Just like the necklace he put out there a few days ago: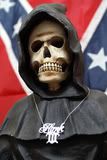 People see someone wearing this and say, hey who is Hank III? And this gives him the name recognition he needs. Like I've always said, if people could just hear his music, they'd be sold.
I'm not a big merch hound like some, but I got my Hank III T Shirts. I make sure whenever I'm going out to listen to live music to wear one. It's hard for me to stand out on a street corner and be like 'You've ever heard of Hank III?' But if your at a bar, somebody will see your T Shirt and be like 'Hmm, Hank III, is he any good?' or 'Is that Hank Williams grandson?' And then your in.
But hey, some chicks don't like to wear shirts with skulls, pot leaves, and Confederate Flags on them, hence the necklace. Give everybody a chance to show their Hank III love.
---
Joe Buck TV !!!
If you haven't been checking this out you gotta catch up. The latest episode he talks about getting messed up in a car wreck. They told him it would take years to recover. He was out touring with Shelton months later. If you go to the upper right hand corner you can navigate to all the episodes.
..
Joe Buck has got a fully loaded tour going off this Fall, so go by his MySpace page to check out the dates.
© 2022 Saving Country Music