Just down from hank3.com:

The muddin' version of 'Long Hauls and Close Calls'

ALSO: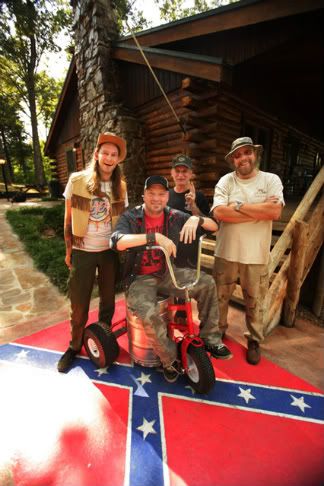 Yep that's none other than Shelton Hank III and Hank Jr. hanging out with none other than Jesco White.
Here's the scoop:
"Recently, a meeting of the outlaws took place in Paris TN for the filming of "The Wild and Wonderful Whites". White family friend and Producer Storm Taylor has teamed up with Director Julien Nitzburg (The Wild World of Hasil Atkins) to make a documentary about the legendary Jesco White and his family. "We have been following the family for about a year now. As you can imagine…It has been quiet a ride. I felt that that there was absolutely no way that we could truly complete this project without the support and music from Hank 3" said Storm Taylor in a recent interview. After a few months of planning, Hank III had a brief afternoon entertaining the cast and crew at his Nashville home. He then took the crew to a more rural setting….as Hank Jr. played host to what can be called a 'once in a lifetime' weekend. "Just imagine a cabin, some beer, a pig roast, 4 wheelers, a pond, Hank III, Hank Jr, and Jesco White all rolled up into a big Hellbilly weekend ball…unimagineable" Storm said."
"'The Wild and Wonderful Whites' is scheduled to be released in early 09′ for MTV Films. The documentary will feature a wide variety of music, including local West Virginia artists….and Hank III (of course).
"For updates on additional filming and information about "The Wild and Wonderful Whites" please visit Storm's Myspace."
Make sure to go to hank3.com and check it out, because there are additional pictures of Hank Jr., Hank III, and Jesco, including pictures with Keith Neltner and Blake Judd.
I've also heard from numerous people that Hank III and Jr. have been hanging out and hunting together recently, so it seems like everything seems to be patched up, whatever was unpatched to begin with, and this is VERY good news.
© 2021 Saving Country Music