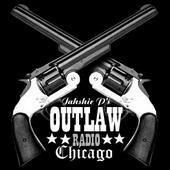 Man, I'll tell you. Since I started this thing I've been trying to push the podcasts out there that support REAL Country music and real music in general. But the thing with podcasts is sometimes they come and go, because of course just like us bloggers, there's no money in it, and it can consume a lot of your time. But I'm happy to report that the podcast scene in the Outlaw music underground is thriving, and as strong as ever! In fact there's some spanking new ones out there!
Outlaw Radio
If you haven't listened to Outlaw Radio yet at 9PM Central Time on Tuesdays, you're missing the party. If you like the bands in my top friends, including Hank III, .357 String Band, JB Beverly, Willie & Waylon then this podcast is right down your alley. It's kind of weird to get to, but trust me, it's worth it. If you add them as a MySpace friend, then you will get bulletins before the show with links to where you can listen to it.
He's got great interviews too. In the last couple weeks he's interviewed Joe Buck and Jayke from the .357 String Band. Hopefully in the future they will make it where they can archive shows so you can listen any time because this podacst ROCKS!
New Big 'G' Podcast!
Also on the new front, Big G has a new podcast where he archives his big interviews on Revolution FM's nightly Texas Roadshow HERE! Go there people, he's just posted an interview with UNKNOWN HINSON!!!, plus there's interviews with Kinky Friedman and Billy Bob Thorton there, and many more to come.
Others you May of Not Heard Before:
And if I'm mentioning podcasts I got to mention Tim Pop Live whose got a new band and couple of new podcasts up I still got to catch up with. He's been a HUGE Free Hank III supporter from the beginning, and plays cool old school punk, metal, and some country too. Then there's It Burns When I Pee which is the BEST MONTHLY underground country podcast.
Johnny Wright Jr.
But big kudos need to go out to Johny Wright Jr. who appeared on Ralph's Back Porch on Blog Talk Radio talking about the Reinstate Hank Movement. He's also got a great new blog up about Reinstate Hank HERE.
Listen people, don't try to fight through the pop country garbage on the radio any more. Tell the people playing Jessica Simpson between commercials for Viagra and Korean Cars to kiss your ass, and get into podcasting. It's a great way to hear new bands, and it's a great way to support independent, local artists!
I know I've given you a lot to crunch, but come back to this page and get your podcast fix in small doses.
/It'll get ya feeling like a good ol' American boy, or girl.
© 2022 Saving Country Music