I wanted to write some stuff about the AMCA's that happened on Sunday, but to be honest, I can't find the passion to. We all know that Kenny Chesney has no dick, and that the fact that he's won 'Entertainer of the Year' the last three years is a joke. And there's a reason that the AMCA trophy is ergonomically designed to fit up someone's ass, because that's where it belongs.
I mean look at that thing. It's a huge glass phallus. For serious. And I bet 'ol Kenny can't wait to get back to his hotel room to have his way with it.
To be honest, Kenny and Toby Keith and all those people are not even on my radar. They both are about 2 gallons of weak sauce hauling 2 tons of stupid. I swear I could not even name you one Kenny Chesney song. I'm into country music, and all Kenny is is pop music with a cowboy hat perched on top.
I'll make the bold prediction right here that in 20 years, the world will look back at this era of country music as dark days, just like the time in the 80's when the outlaws had stopped riding, and young country was still in diapers. Hell, Garth Brooks and Clint Black look pretty good right now in comparison to Montgomery Gentry and Keith Urban. At least Garth wrote most of his own songs.
Let's face it, we've lost most of the country music institutions. All of the major labels like Curb are a joke, the Opry has sinned, and the AMCA's are laughable as a current barometer about what's truly happening in country music.
But there is one institution left that is not turning their back on true country music and the traditions and people that made it great: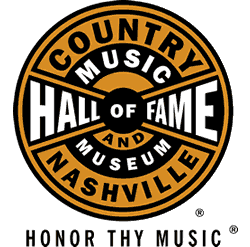 I have the highest regard for the Hall of Fame. Right now they are running an exhibit on the The Williams Family Tradition . It doesn't mention it in the ad, but this exhibit also includes a lot of Hank III stuff, including pictures, writeups, his first stage Nudie outfit, and the legendary duct taped boots from the first album.
If you want to see some pics of this stuff, 'howiedetroit' from the 'Cussin' Board on hank3.com has some posted there.
If you look at the winners of the AMCA's this year, it is a parade of fairy boys and fuckwits, but if you look at the Hall of Fame inductees, it is solid country gold.
This year they inducted Tom T. Hall, who wrote outlaw country songs for Waylon Jennings, and wrote songs for Johnny Cash. They also inducted the beautiful and timeless Emmilou Harris. Back in 2005 they inducted DeFord Bailey, the guy I wrote about in Pissin' Off the Opry and none other than Hank Williams Sr. was the first person ever to be inducted into the Country Music Hall of Fame.
Just like how all of the steroid-era baseball players are getting passed over by Baseball's hall of fame, I hope that in the future when the Chesney's and Keith's come up, the Country Music Hall of Fame sees these people as the puppets of a dark era in country music, and passes them over too.
Let them have their AMCA trophies. They are worthless in my eyes.
© 2022 Saving Country Music