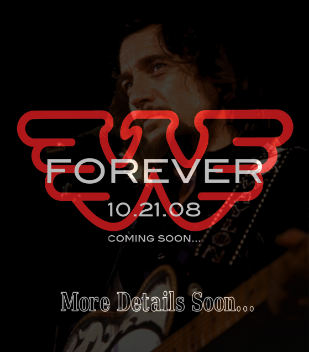 That's right, Waylon Jennings is going to release a new album!!!
From Billboard:
""Waylon Forever," billed as the final recordings from outlaw legend Waylon Jennings, will be released Oct. 21 on Vagrant Records, Billboard.com can reveal.
The eight-song set features remakes of Waylon classics, surprising covers and a new Jennings original, all backed by the artist's son Shooter and his band the 357's.
The elder Jennings died in 2002, but the recording of these songs began more than 12 years ago (when Shooter was 16) at a pool-house home studio in Arizona, with vocals cut in Nashville. In 2006, Shooter and the 357's recorded more backing tracks at producer and bandmember Dave Cobb's studio in Los Angeles.
"It wasn't like it's some mysterious story about some unfinished album that was in some closet for 10 years," Shooter tells Billboard.com between bites of a sausage, egg and cheese sandwich at the Providence, R.I., airport. "We finished the album the best that we could when I was 16. We had all the intentions in the world to get it out there and get a record deal with it."
The album features relatively faithful, if edgier, renditions of Jennings standards like Neil Young's "Are You Ready for the Country," Rodney Crowell's "Ain't Livin' Long Like This," and Jennings' own "Waymore's Blues"; a stirring ballad reworking of "Outlaw Sh*t" (previously released as "Don't You Think This Outlaw Bit's Done Got Out of Hand"), a cover of Cream's "White Room," as well as the never-released, Waylon-penned "I Found the Body."
"When nothing happened [the recordings] kind of just disappeared, and about two years ago Dave my producer and [girlfriend] Drea [De Matteo] both were like, 'You've got to do something with that'," Jennings says. "Thank you to modern technology. It doesn't sound like we dug up some vocals that had always been there and we had to do magic to make it sound new. It's all about bringing my musical side of everything I do around him and creating this completely different but acceptable space that he fits in."
Shooter's most recent album, "The Wolf," was released last October by Universal South. He comes off the road in September and says he'll begin work on a new record in October on a label to be determined.
"It's gonna be a pretty wild record. It's not going to be the normal record by any means," Jennings says. "If they didn't play me before on country radio, they're really not gonna play me now."
Here's The Track List:
"Jack of Diamonds"
"Outlaw Sh*t"
"Ain't Livin' Long Like This"
"Are You Ready for the Country?"
"Lonesome, On'ry and Mean"
"Waymore's Blues"
"White Room"
"I Found the Body"
I could not find it for pre-sale anywhere online yet, but I'll keep you posted. man, my music weenie is standing attention for this fo sho.
---
Cut & Pasted from hank3.com:
The most interesting part to me was when he actually gave Curb Records credit for releasing the album with 'The Grand Ole Opry' song on it. I don't think this is pandering. I also give credit to Curb. This takes huge balls on Curb's part, even though legally they may have not had any choice.
Also if you haven't seen it yet, the Hank III band MySpace page has a new layout, and there are songs off the new album you can give a listen to or add to your MySpace profile. They've also been playing Damn Right, Rebel Proud tracks on satellite radio and some local radio stations. Meanwhile DRRP and the Hank III Collector's Tin are 5 & 6 on Amazon's country pre-order chart. I know some of you would like to see it 1 & 2, but this ain't bad at all for an underground artist whose getting little promotion for his music that isn't self-produced.
Sorry I'm a little late with this info guys, but I'm doing all this pro bono, and sometimes other things in life get in the way.
© 2021 Saving Country Music