The great Shelton Hank Williams III was not the first Curb Records recording artist to start a 'Fuck Curb' campaign. It was none other than the horse-faced Leann Rimes. If you think I'm higher than a Georgia pine, read on.
Now before I get started, if you think I have ANY love for Leann Rimes, you got me fucked up. Her first album had a little old school kinda Patsy Cline feel to it, but after that, she went straight to whoring herself and has become the poster child of powder puff pop country.
Also a lot of you hellibilies may not be into reading this shit, which is fine. When I started this thing I attached a blog to it because THE MEDIA DOES NOT COVER THE OUTLAW/HELLBILLY movement, someones got to be putting the written word about this shit out there.
Now having said that, here we go:
When I was writing my last rant against Curb Records, I mentioned Leann Rimes. When I was typing out the name, something clicked in the back of my head. I may not be the smartest dude, but I got the memory of an elephant. I remember watching Jay Leno a while back, and Leann was the musical guest, but instead of performing a song, she just came out for an interview with Jay, and though I can't remember exactly what she said (and can't find YouTube of it) I remember she said that the album her label had just put out was 'not her' and that she was telling people NOT to buy it. You can imagine this hit me as strange coming from such a pop country whore diva.
For those of you that don't know, Leann was discovered by Mike Curb, the owner and Absolute Fuhrer of Curb Records, and she is one of Curb's biggest artists.
The album she was telling people to NOT buy was: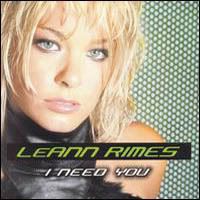 This is the cover of a fucking country album?
Anyway I tried to find an in-dept article about this thing, but all I could find were snibits of shit. Here are a few of them:
Maria Konicki Dinoia, All Music Guide:
"You have to wonder about Curb's choices for this album. Released amidst public notoriety that LeAnn didn't have creative input or support its release, I Need You is all over the place. If you had blinders on for the last five years and didn't know who LeAnn Rimes was, this album wouldn't tell you. There's no continuity in the songs or the sound. Is she country? Is she pop? Is she country-pop? I Need You contains some previously released material like the album's top ten title track, the hip "Can't Fight the Moonlight" from the Coyote Ugly soundtrack and the cheeky "Written in the Stars." Hearing LeAnn sing ANYthing is always worth a listen, but this time around, LeAnn fans would do well to support the 18-year-old and her management when they ask you not to buy the album."
From Wikipedia:
"In 2001, Curb Records released I Need You as a collection of promotional tracks and B-sides to help satisfy Rimes's recording contract obligations during litigation with the label and her management."
From eu.com:
"Leann Rimes started a sales-prevention campaign for I Need You, claiming Curb Records cobbled the album together, without permission, from outtakes and previously released soundtrack cuts."
From these snibits and others, I've tried to put together what happened:
Leann Rimes was in the movie 'Coyote Ugly' and she played herself. She also recorded quite a few songs for the soundtrack. She had some agreement with Curb Records that
she would put out an album every year or every two years or whatever, and since she was working on Coyote Ugly and its soundtrack for a while, she owed Curb a record. So instead of asking her to make one, they just threw a bunch of stuff left on the cutting house floor from her last albums, and remixed a few songs from the Coyote Ugly soundtrack, called it an album, and DID ALL OF THIS WITHOUT HER PERMISSION OR EVEN CONSULTING HER. Then they booked her on a tour to promote the shit, where she went around the country talking shit about Curb and telling people not to buy the album.
In other words, we owe the first 'FUCK CURB' campaign to the horse-faced moneywhore Leann Rimes.
Again I have no love for Leann, but this just proves how low Curb can go, when they can even get crossways with one of their artists that's all about the money in the first place.
So when researching all of this shit, I kept thinking about III. It seems his biggest sin against Curb Records is that he doesn't care about the money, because that ALL Curb cares about. They saw the name Hank Williams and figured they could exploit it for financial gain. But III wouldn't play along. So maybe now they are trying to break him, trying to rub his face in the dirt and keep him poor so hopefully he will come back to them with his tail between his legs.
Something tells me that is not going to happen.
Curb sees then name 'Hank Williams' and sees dollar signs. Shelton sees the name and feels solemn reverence.
Curb feels that they made Hank III, and that they can break Hank III.
But one thing they didn't count on was you; the hardcore Hank III fan.
Curb Records has no idea the shit storm they have awakened.
© 2021 Saving Country Music