This is Big Wayne: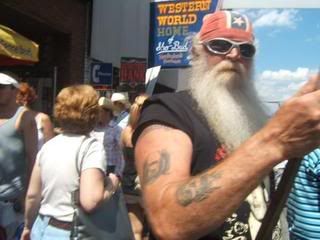 Big Wayne likes beer. He also likes Hank Williams and Hank Williams III.
But Big Wayne is confused.
He doesn't understand why Hank Williams is not a member of the Grand Ole Opry, even though they use his image, likeness, and songs to promote themselves. He doesn't understand why a man that did so much for such an important country music institution, cannot be given the rightful gesture of reinstating him.
Big Wayne is asking you: Have you signed the petition to reinstate Hank Williams to the Grand Ole Opry at reinstatehank.org?
Well have you punk ?!?!?
Something tells me if you haven't, you may want to amble on over there and get that done.
We don't want to make Big Wayne mad, now do we?
---
Don Helms, Hank Sr.'s Steel Guitar Player Suffers Heart Attack:
I got the heads up about this from Mr. Bandana
You may of never heard the name Don Helms, but if you've found your way to this dark corner of the internet, you've heard him:
"Don Helms, a legendary steel guitarist who played on most of Hank Williams' recordings, was hospitalized in an intensive care unit earlier this week, after suffering a heart attack and a stroke over the Fourth of July weekend.
A note was posted on the TwangTownUSA. com website by Michael Panasuk, of CPR Records, saying the stroke and heart attack were "mild." "We firmly believe he's going to recover," Panasuk wrote. "We're just not sure how long it will take."
Don, a Nashville resident who turned 91 in February, joined Hank's Original Drifting Cowboys in 1949 and soon appeared on a host of classic recordings by one of country's most significant singer-songwriters. Among the Hank hits that featured Don's steel were "Cold, Cold Heart," "Hey Good Lookin'," "I Can't Help It (If I'm Still In Love With You)," "Kaw-Liga" and "Your Cheatin' Heart."
But Don didn't just impact Hank's music. He also appeared on such landmarks as Lefty Frizzell's "The Long Black Veil," Patsy Cline's "Walkin' After Midnight" and Ray Price's "I've Got A New Heartache," plus sessions by Loretta Lynn, Red Foley, Ernest Tubb, the Louvin Brothers and Brenda Lee."
Don Helms Playing with Hank Williams on the Grand Ole Opry (watch for his break at about 2:05)
Don Helms 'Cold Cold Heart" Solo 1968:
Don Helms this last November, playing the same guitar he played with Hank Williams, and on Patsy Cline's 'Walking After Midnight', the classic 'Jingle Bell Rock' many many other legendary tunes:
So let's keep this country hero in our thoughts, and hope that he gets to see the day that his ol' buddy Hank Williams gets reinstated to the Opry.
© 2022 Saving Country Music