Real quick, if you did not see the message from the Hank 3 music page yesterday that was all over the bulletin board like a bad rash, CLICK HERE .

This is the next front in the Free Hank III movement, to get Shelton played on the radio. We're targeting this one radio station in LA right now, but there will be more to come so stay tuned, and don't be shy requesting III on your own local station!
---
To be released on Oct. 28th: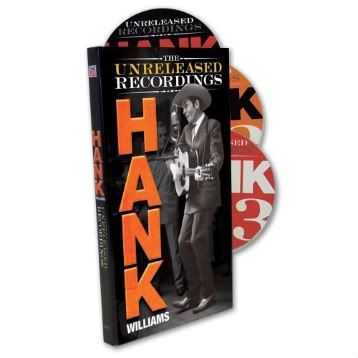 "At the peak of his career in 1951, Hank Williams recorded 143 song for the Mother's Best Flour Company. Hank sang with his regular studio band and recorded his hits as well as many songs he never recorded commercially anywhere else. This historic 3-CD 54-track collection is a rare, informal glimpse into the heart and soul of one of country music's greatest stars."
For a track list and to pre-order CLICK HERE .
There have been bootlegs of some of these songs out there for years, but some of these songs have never been released, some are songs Hank wrote but never performed anywhere else, some include extra verses not found in other recordings.
I've been spending dough on music like crazy here lately, but I'll probably cinch the belt and nab this one too.
And just a note, a few blogs back a lot of people requested that I write something about the UNFINISHED songs of Hank Williams that somehow found their way to Bob Dylan. I've got a whole big thing about that worked up, and will post it here either tomorrow or the next day, barring any breaking news or other more time sensitive Free Hank III business.
/
So stay tuned, stay hard, and keep them horns up!
© 2022 Saving Country Music