Since it is a slow lazy Saturday, I thought I would geek out on a little country music history.
There are lots of names for the different styles of country music: Bluegrass, Progressive, Pop, Alt., Roots, & Outlaw to name a few. Dale Watson, who was featured in a new article this week likes to call his brand 'Ameripolitan.' I don't really like that term much myself, but it got me thinking. What makes country music 'Outlaw' country?
You might first think that its music that is NOT pop country, or its country that is edgy with its lyrics and tones. But Willie Nelson and Kris Kristofferson were without question outlaws of their time, and they got plenty of radio play and were probably more closer to hippies than cowboys. Austin has always played a big role in Outlaw Country, but there are plenty of Nashville outlaws, like Hank III and Tompall Glaser.
I think what defines Outlaw Country has nothing to do with the music or where it's recorded. I think it has more to do with the recording process itself. No matter what 'Outlaw' you're talking about: David Allan Coe, Willie Nelson, or Hank III, they have all insisted on complete control of the recording process.
It all started here: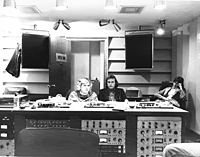 Outlaw Headquarters at Hillbilly Central
Before there was Willie and Waylon, two other semi-famous but frustrated Nashville artists, Tompall Glaser and Bobby Bare, got tired of the Nashville way of doing business. So Tompall set up the 'Outlaw Headquarters' on 19th Ave. south, just off of music row in Nashville. It included a full independent recording studio, as well as pinball tables and other things so the 'Outlaws' could just hang there if they wanted.
Tompall's Outlaw Headquarters was where the disgruntled RCA artists Willie and Waylon first saw that they did not have to record the Nashville way, and could use their own musicians and record the songs they wanted to.
Later Tompall, Willie, Waylon, and Waylon's squeeze Jessi Coulter would put out Wanted: The Outlaws , a compilation album that was the first certified platinum country music album ever.
So what does all this have to do with Hank Williams III?
As you all probably know, Shelton recorded Straight to Hell on a $400 Korg D-1600 in an old house in Nashville. The reason he did this instead of recording in a traditional environment was because it "Liberated the artist from temporal and budget constraints," as it says on his website. But what Hank III has also said a few times in different interviews is that he also wanted to show other artists that they did not need a big studio or a major label to make great music. That the technology was now such that the power to record was in the artist's hands.
In other words, Hank III was showing a new generation of outlaws the same thing Tompall Glaser showed Willie & Waylon back in the late 60's, that they could flip the bird at the Nashville oligarchy and do it DIY.
THAT, along with the fact that it brought all the punks and metalheads into the country fold, is why Straight to Hell is one of the most important and influential country music albums of our generation, and why Hank III, whether he wants to or not, or does it unwittingly like Willie Nelson did, could be they dude that could turn country music on its head, similar to how Willie and Waylon did in the 70's.
It's also the reason why Hank Williams III is unarguably an Outlaw.
© 2022 Saving Country Music