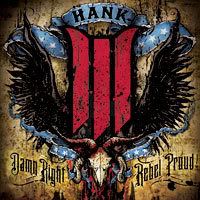 Some stuff going on today and the coming days for the release of Hank III's Damn Right, Rebel Proud so in no creative fashion I'll run it all down for anybody who is interested.
–Hank III will have an exclusive interview tonight on Outlaw Radio at 9 PM Central Time. To listen CLICK HERE and then look in the right column for the right media type to listen.
–He's also going to be on a LA radio program tomorrow morning I know, but I can't find the dern link anywhere, so if you got it, pony up in the comments section for everyone. I have NOT heard any more about him making a TV appearance, but as soon as I hear something I'll let everyone know.
— If you ordered the vinyl LP version of Damn Right, Rebel Proud it may be a while before you receive it. From what I'm hearing from a lot of different sources is that the demand was way higher than they expected, and the LP is back ordered already. And if you're looking for the LP version, save your gas because your local record store or Best Buy will likely not have it yet. And just to clarify, the LP also comes with the DRRP CD also.
–For all of those wondering about a DVD coming with DRRP, maybe one with the footage people were asked to send in, well apparently it ain't coming out with the CD, and I'm not getting any sort of firm answer from anyone when we can expect it. But of course, as soon as I hear something, I'll clue everyone in.
---
Damn Right, Rebel Proud is not the only CD to be released today:
The great goth country band Creech Holler released their second album The Shovel and the Gun today. Hopefully I'll get a copy in my grubby little hands here soon and give you a review. If you've never heard of Creech Holler before but you like Those Poor Bastards, you should give these guys a try.
© 2022 Saving Country Music