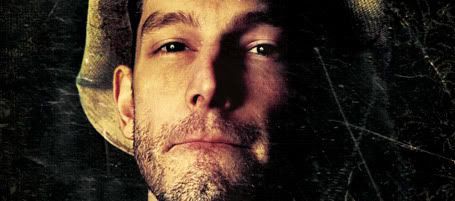 There's a bunch of new reviews of Hank III's Damn Right, Rebel Proud out there, too many to list, but there's a great one at Twangnation you should check out.
There's also a great interview with III at bullz-eye.com and Shelton gets political on your ass HERE .
And last but not least there's some cool new III photos HERE.
---
I want to give a huge thanks to Jahsh from Outlaw Radio for his EXCELLENT interview with Hank III last week. Lots of great info was squeezed out of Shelton, and for those of you that missed it, here are the big points:
TOUR:
According to III, there will be no tour before the end of the year. The main hold up seems to be the lack of or practice needed with a fiddle player. So shit, if you know someone who can play mad country fiddle and can tour, make some phone calls.
NEW ALBUMS:
Shelton talked about the first REAL Assjack release which hopefully will be happening soon. Apparently Curb Records has some sort of say so in whether they want to release it first or be partially involved, and if they decline, then he can find another label. I don't understand the finer points of this, but hopefully we'll have some news about this soon.
As for the country stuff he said he's going to start recording the new album next month. Hopefully it will come out within a calendar year or less of DRRP's release so Curb can get in the rear view mirror as soon as possible.
REINSTATE HANK:
I was real happy to hear Shelton mention something about doing a multi-day multi-artist event on the internet that would involve numerous artists performing and showing their support for the Reinstate Hank movement. This whole time I've thought getting some big names involved is the best way to make this movement a Public Relations issue for the Opry, which I believe is the best way to get this done.
He also talked about understanding how the song 'The Grand Ole Opry' may have not helped the movement and may even have hurt it, which for me is important, and shows me that Shelton understands the dynamics of the situation and how best to deal with them.
DAMN BAND LINEUP:
I think there's still some we don't know about the new band lineup, but there's likely going to be 2 drummers, including Shawn McWilliams for the country set. There also MIGHT be that 18-year-old banjo player we saw at the Bluegrass Inn gigs if he can tour.
JOE BUCK & ZACH SHEDD
I've said this before and I'll say it again, even with Hank III's comments on Joe Buck from the interview, I don't think anybody is in a position to say that Joe Buck will not be part of the lineup when the Damn Band breaks camp. And even if Joe Buck is not there, I'm going to see this as a positive, because this means Joe Buck has made the leap to his own thing.
Joe Buck brought a stage presence and star power to the live show that can be matched by nobody. But having said that, in my opinion, from a technical standpoint, Zach Shedd is a much better bass player. Not to say Joe Buck is bad, but Zach is better. Watch this and tell me I'm wrong:
I'm sorry man, but the dude can slap like nobody's business, and I can't wait to see him let loose in recording or at a live show.
PS: I haven't heard anything about a Hank III television appearance, but as soon as I do I'll let eveyone know. Also, his interview on Indie 103.1 LA was canceled because the DJ was sick. I'll let you know if it gets rescheduled.
PSS: I mentioned a while back I wanted to do an interview with Zach Shedd, and you might be wondering why I have never interviewed Hank III. We'll because of the legal bullshit with Hank III's contract, it is important that we at Free Hank III keep once removed from direct association with Hank III or his peeps, so that's just the way it is.
© 2022 Saving Country Music