First of all, if you did not catch all of the news about it all over the bulletin board, Hank Williams legendary steel guitar player Don Helms died yesterday. I'd done a blog on him about a month ago after he suffered a minor heart attack, and you can read it by clicking here.

Most everything that needs to be said about him has either already been said by me or others, but I do want to add this one last note: Everyone has been referring to him as "Hank Williams steel guitar player" but I don't know that this is being fair to Don's legendary career. I've been a fan of him on his own right for years, and his own music and the contributions he made to Hank's I think stand on it's own. He was still making music even now, including working with Joey Alcorn. He will truly be missed.
---
Ode to the Hellbetties !!! (present day)
One of the coolest things about the new Outlaw Country movement is that there are a LOT of female artists involved, and more times than not, THEY ARE HOT !!!! There ain't nothing that gets me pitching a tent in my music pants quicker than a hot girl musician THAT'S ACTUALLY GOT SOMETHING! Jessica Simpson, Faith Hill and all those other's make me want to throw up on myself 'cause they're just Barbie Dolls with fake breasts and bad voices.
So here's a list of my favorite hellbetties. It's probably nowhere to complete, it's just my list, so please add your favorites in the comments if you want to. Click on the names in blue to check out their MySpace sites.
---
I really can't even put into words how I feel about Rachel. She stole my heart the first time I found her, and now every time I think about her or hear her music it just open up a black hole of pain in my chest. I guess that didn't sound like a compliment, but it was meant as one.
I did a whole big blog about here a while back that you MUST READ HERE, but needless to say, she is the reincarnation of Hank Williams, in a beautiful, awe-striking form.
---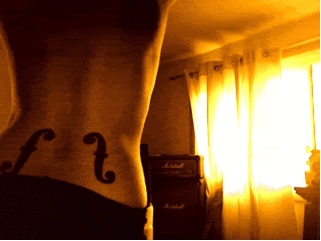 She might be a little older, but she's not lost anything. And brother, if musical tattoos with a Marshall stack in the background doesn't get your motor running, check you pulse.
Galea has been a good friend of mine for years. We met over our mutual love for Hank III. She was the one that put in the correct guess of Mike Nesmith in my Forgotten Outlaws (part 1), but she holds a much bigger distinction than that.
Galea and her badass guitar-playing squeeze Poppa Chubby are recording a duet album in which they are covering Hank III's Straight to Hell song. This is HUGE people. I believe this is the first time Hank III will ever be officially covered, where he'll get shared profits from the song and the whole bit.
Hank III is a hell of a songwriter, and more people should cover him. But Galea was the first to do it, and she deserves HUGE props for it, and the rest of her great music.
So check her out. She's badass. Listen to her music, add her as a friend, buy her CD. It's worth it.
---
If Rachel Brooke is Hank Williams, Six Gun is Hank Jr. back when Hank Jr. was cool. She's is TRUE DOWN HOME SOUTHERN as they get, all calico cat & cotton candy,and a GREAT singer/songwriter.
Watch this and try to tell me you aren't welling.

---
Man she's as cute as can be with a voice like summertime. A lot of people don't know about her outside of California, but they should. She's more like Patsy Cline than Patsy Cline was. Hot with an amazing voice, and a great vintage style. What more can I say.
---
She another Cali girl and dude, she's hotter than a cast iron commode in the sun. The ULTIMATE pin up girl with a great voice and that bad-ass retro style. She's also done a lot of modeling for tattoo, biker, etc. mags. CHECK HER OUT!
---
And if girls with tattoos is what gets you going, also check out Little Lisa Dixie
Man, I REALLY like her music. That's the thing with ALL these girls. They're not just pretty faces. They got TALENT, a LOT of talent, singing AND songwriting, which is something you can't find on pop country.
---
I could go on forever really, but three other girls you should check out are Miss Lauren Marie down in Austin, Beth Bladen, and the VERY cute Carmen Lee .
---
Rachel Brooke, Carmen Lee, Little Lisa Dixie & Others are being featured on the next It Burns When I Pee podcast set to come out on Aug. 18th.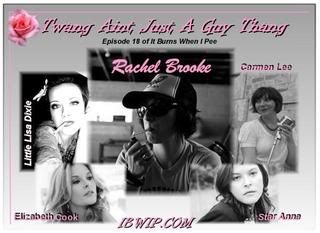 ---
One last thing I want to say if you've made it all the way down here is that all these girls happen to be attractive women, but they also have TALENT. I think what pop country has done to female singers is insulting towards women. They take a huge set of fake tits and throw it out there as country music. NO. NO NO NO!! Everyone likes a pretty woman, but these women are ARTISTS, and what makes them cool is that they also have talent that ALSO should be recognized, and that's what I'm trying to do here.
Hats off to all you girls.
© 2023 Saving Country Music