Browsing articles tagged with " Black Eyed Vermillion"
The small promotional idea that has now become an international event every Spring called Record Store Day is picking up steam for it's 2011 edition. Observed on April 16th this year, far from just a good excuse to locate and patronize your local record store, it has also become a good excuse for many bands around the world to promote themselves with limited edition vinyl pressings, and "split" projects with different bands to help introduce different artists to different fans.
Country has been the very last of the major genres to embrace the revitalization of vinyl, with one exception: Hank Williams III, who has been releasing his records on vinyl for years, and has his full catalog available in the format. In conjunction with Record Store Day this year, 700 limited-edition colored vinyl copies of his albums Risin' Outlaw, Lovesick Broke & Driftin', Straight to Hell, Damn Right Rebel Proud, & Rebel Within will be made available.
In theory they will only be available through local record stores, but I have said this before about Hank III vinyl and then turned out to be wrong. Some stores will probably stock them on shelves, some you might be able to pre-order the editions through.
However, just like the controversial Hank III release Hillbilly Joker, these albums are not being done with the blessing of Hank III, but are being released by Curb Records to continue making money off an artist that is no longer on their label, and by selling music many fans already have. This puts Hank III in a moralistic jam. If they buy these sought after albums, they are supporting their local record store, but at the same time they are supporting Curb Records, and going against the wishes for the man whose name is on the front.
"Don't but it, but get it some other way and burn the hell out of it and give it to everyone."
…is how Hank III has asked his fans to handle Hillbilly Joker
Other country projects on vinyl as part of Record Store Day:
Justin Townes Earle – Move Over Mama 7″
Steve Earle – I'll Never Get Out Of This World Alive 7″
Ryan Adams & The Cardinals – Class Mythology EP 2 x 7″
William Elliot Whitmore – POS 7″
Other Recent Vinyl Projects:
Black Eyed Vermillion / Goddamn Gallows "Swappin' Spit" Vinyl
Jayke "Goddamn" Orivs, (a name I coined, thank you very much) formerly of the .357 String Band and now of The Goddamn Gallows, has finally set a hard and fast release date of June 29th for his solo project called It's All Been Said. Originally there had been some chatter about it being released in late April.
The record is being released through the newly-formed Farmageddon Records which is the new baby of Darren, a long time roots music promoter from Montana. The album is also going to be released on a 500 run of limited edition vinyl, with the first 100 albums being gold vinyl. The album will be able to be purchased at the currently under construction (pardon the dust) "newrootsorder.com."
The other players on the album primarily consist of JB Beverley & The Wayward Drifters members, including JB, Banjer Dan, and Johnny Lawless. Also appearing is James Hunnicutt.
Also on June 29th, Farmageddon Records will be releasing a 7″ 45 of the Goddamn Gallows LIVE including the songs "Ya'll Motherfuckers Need Jesus" and "Waitin' Around To Die." This will be a limited 1000 vinyl run. Then in August they are releasing a 7 song EP split with The Goddamn Gallows, and Gary Lindsey's band Black Eyed Vermillion.
Darren of Farmageddon will be appearing on the next show of the White Trash Revival Podcast, so make sure to check that out as well.
Here's the Jayke Orvis "It's All Been Said" cover, and you can hear some songs from the album on Jayke's MySpace.
I picture a post-Apolcolyptic scene: ghost towns full of crumbling buildings and rubble, smoke filling the sky and blocking out the sun, the result of a society that gave no value to art, heritage, and truth; a vast wasteland of grayness. Then all of a sudden in the midst of all the death and decay, there's movement: a lone being protected by the elements by a big black, robotic-like suit. Maybe it is one of the few survivors, or an alien sent to investigate the fate of this once beautiful place.
He goes sifting through the rubble of a bombed out structure, looking for evidence of what went wrong. He finds a shelf whose contents of CD's and DVD's have been belched out onto the dusty, rubbage filled floor in a pile. A big black glove pushes aside CD's by Brittaney Spears and Taylor Swift, DVD's with pretty movie stars adorning their covers. Then he sees something curious: a black disc with crossed guns on the front. What is this? He pops it into a media player attached to the side of his helmet, and all of a sudden a new world is presented to him: The picture of a collection of artists fighting against society's homogenization and creative vapidness unfolds through music. A resistance. Outlaws, fighting a rebel war against the mainstream, and carrying forth a long line of traditions from the past.
I normally hate compilations. This one is different. No, this does not have all the "hits" from our insurgent country scene that you've already heard compiled in some way to try to squeeze more money out of worn out songs. And it's not the odds and sods and leftovers for other projects either. It is a collection on good, fresh, original, previously-unreleased material that is fun to listen to, and also acts as a primer for artists you may have heard of, but never heard their stuff.
But in another way this is so much more than that. This compilation DEFINES our movement. It gives it clear edges, and at the same time illustrates and celebrates our diversity. Our diversity is what makes us strong: men and women, gothic country w/ Those Poor Bastards, New Outlaw country with Roger Alan Wade, REAL bluegrass with the .357 String Band. Sure there's maybe a few signed artists missing like Hank III, and the Bloodshot Record's gang like Wayne "The Train" Hancock and Scott Biram. But you already know those guys. This is a jump start for the fresh blood, the up and comers.
I've got comments on specific songs below, but in closing let me just say that if you do not buy this compilation, you deserve to have your genitals dry up a whither.

---
Outlaw Radio can be heard every Wednesday night at 8PM Central at
scrubradio.com
. Show are archived, and you can purchase this compilation at
savingcountrymusic.com/outlaw-radio
1. The Dad Horse Experience–Gates of Heaven (Vinyl Version): How ironic is it that there's more appreciation for American roots in EUROPE than in the US? Dad Horse might be one of many European bands we see crop up in the coming years. Love the German accent here, glad he didn't try to hide it.
2. Old Red Shed–Another Round: Great song from a band whose about to put out their first album Country Fury on Arjuna Records. Get in on the ground floor with these guys and watch them rise, they're great!!!
3. Black Eyed Vermillion & Andy Gibson–Death Don't Have No Mercy: Not my favorite BEV track ever, but a great example for those who think Gary Lindsey is all blood and guts, just how soulful he can be. And Andy Gibson, well, he is the master. Our generation's Tompall Glasser. Hats off!
4. Bob Wayne–Ain't No Diesel Trucks in Heaven: INSTANT CLASSIC! Bob Wayne proves once again that he is the best lyric writer in underground country, and maybe in current country period with this Cash-eque song tastefully arranged and witty. Great song!
5. Rachel Brooke–Closer Still: BEST TRACK OF THE ALBUM! Amazing. Rachel's voice is somewhere between sublime and perfection. I said in my review of A Bitter Harvest:"Rachel has a big bag of tricks, and though this album highlights some that have never been seen before, there are more that my ear yearns for that I know are lurking within her. She can tear into bluegrass." Well this is Rachel tearing into bluegrass. A++
6. Ted Russell Kamp–My Heart Has a Mind Of Its Own: Shooter Jennings's bass player is more than just Shooter Jennings's bass player. This song highlights his tight songwriting skills and a strong, soulful, smoky voice.
7. Ronnie Hymes–Sea of Sin: Good song from the best artist on the Pint of Happiness Record Label.
8. Joey Allcorn–Gone, But Not Forgotten Blues: An excellent neo-traditionalist artists that seems so easily "forgotten," and I am to blame as much as any. A solid track.
9. Those Poor Bastards–The Minister's Doom: The Kings of Gothic country never cease to amaze me with how deep their bag of tricks is. This track isn't for everybody, just like Those Poor Bastards isn't. But it nonetheless exemplified Lonesome Wyatt's adeptness at arrangement, and his expertise at setting a mood to tell a story in.
10. Dave Smith and the Country Rebels–Price to Pay: This song may come across as "too mainstream" for some, but I personally think we need more accessible artists in this scene, and Dave & The Rebels prove why. Fun, tight song.
11. Last False Hope–$2 Pints: Gothic punkgrass from the mastermind of the Outlaw Compilation himself: Jashie P and a few close friends. When I first heard this track, I was amazed at the complexity and depth of songwriting, and how clean and pro it sounded. I guess I had just always envisioned Jashie as more of a hack ;). Seriously, good song, and keep your eyes out for a full length release from them coming soon.
12. Izzy and the Kesstronics–Gotta Do What I Wanna Do: Nothing replaces seeing Izzy and the boys live. Their energy level and astuteness are mindblowing. But this track comes very close at bottling that live energy. It's a goofy song, but it's what they do. You may hate Izzy Zaidman, but the simple fact is he's a better musician than you are, and probably gets laid more often too.
13. The Fisticuffs–The Ballad of Bill Blizzard: We can't forget that we owe the roots of our roots to the folks in the British Isles over the pond. This is a band worth checking out if you like an Irish attitude with a punk approach.
14. The Boomswagglers–Run You Down: LOVE THIS SONG! Only reason this isn't my favorite song on the album is because Rachel Brooke is hotter, but The Boomswagglers are one of the best kept secrets in this scene. Crude, dirty, lo-fi, but their songwriting prowess is undeniable, and this might be the best song they've ever cut. Hopefully these boys can keep their asses out of the pokey and we'll hear much more from them in the future. This is one of those songs that you love the first time you hear, and you play it over and over. A++!!
15. Roger Alan Wade–Breakfast At Audrey's: Just the name Roger Alan Wade adds legitimacy to this album, and this song adds a solid singer/songwriter track with endless soul. What I really like about this song is it is clearly just Roger and a mic. You can even hear him flip the paper the verses are on while he sings. Some artists spend thousands of dollars trying to bottle that raw sound, and Roger did it just by being himself. Good track!
16. Little Lisa Dixie–Cheating Games: If I was going to cheat on my music love Rachel Brooke, it would be with Little Lisa. This song has a good slow grooving rockabilly feel to it. Little Lisa has enough talent that she should take her music to the next level, and proves that WOMEN are a big and beautiful part of this music revolution.
17. .357 String Band–Restless Man Blues: Known for bluegrass, this is a pretty straight country-feeling tune. Not their greatest track ever, but a solid offering.
18. Six Gun Britt–Hard Habit To Break: Damn. Six Gun could melt a rock. She is just amazing, and this is a beautiful, sad song. Every time I hear Six Gun sing, it makes me angry. That's right. Because in a perfect world she would be a superstar. Her talent is that worthy. And if her music wallows in obscurity for the rest of time, what an atrocity that would be. If you're reading this right now, consider yourself deeply blessed, because you're one of the few who knows who Six Gun Britt is.
19. Hellbound Glory–Livin' On Pabst Blue Ribbon: Leroy Virgil is the fastest rising star in Insurgent country, and that is the fault of his unbelievably adept songwriting, built on a solid foundation of REAL country appreciation and study. All one hell of a backing band, and Hellbound Glory might be the best apostles for REAL country we have right now. Not Hellbound Glory's best, but a good, fun song.
20. The Goddamn Gallows–Waitin' Around to Die (live): Great cover of the Townes Van Zant classic spiced with the Gallow's gotic circus freak sow punk billy grass that is all their own. SEE THESE GUYS LIVE BEFORE YOU DIE!
21. Joe Buck Yourself–Big River (live): This song comes from a recording Jashie P did of an entire Joe Buck concert in Chicago a while back. He played the whole show at the end of one of his podcasts, and I listened to it probably a dozen times, and it remains my favorite recorded Joe Buck experience, more than his albums. Joe Buck is just such a unique experience live, I think that is what his next release should be, a live CD.
22. Lucky Tubb & The Modern Day Troubadours–Thanks A Lot (live): Lucky has a spellbinding singing cadence that is all his own. It's there in his recorded material, but even more present live. He's dripping with talent, and puts the "traditionalism" back in neo-traditional. Good track. Love the steel guitar.
FAVORITES:
#5 Roger Alan Wade–Breakfast At Audrey's
#4 Six Gun Britt–Hard Habit To Break
#3 Bob Wayne–Ain't No Diesel Trucks in Heaven
#2 The Boomswagglers–Run You Down
#1 Rachel Brooke–Closer Still
Man. If you like REAL/Underground country music, than this upcoming compilation from the Outlaw Radio Chicago podcast should get you pitching a tent in your music pants. This compilation is going to include ALL PREVIOUSLY UNRELEASED MATERIAL. And the names are a who's who of the underground movement. Check out this laundry list of contributors:
And there might be more to come from that!
At the moment it is slated to come out in April 2010, and the cost will ONLY be around $8.00. The idea is just to recoup the capitol to put out to make the CD's, and help promote the artists, so this is not some for-profit hosing. Can you imagine pop country doing this? This again proves that Jashie P. of Outlaw Radio is a man of integrity and good ideas, and that as a community, the REAL country movement is stronger than most, if not all. Artists are ponying up the songs, Outlaw Radio is ponying up the dough and time to make it happen, and I'm sure you will pony up for a copy.
I'm usually not much for compilations, but this CD is already near the top of my list for most anticipated 2010 releases in an already VERY strong field.
Outlaw Radio is heard every Tuesday night at 9 PM Central, and all the shows are archived the next day at savingcountrymusic.com/outlaw-radio. This week Pearls Mahone will be co-hosting, and he will be debuting a song from the new Jayke Orvis project.
Austin, Texas band Black Eyed Vermillion, comprised of Hank III screamo man Gary Lindsey, and at any time Stevie Tombstone, Killene Tombstone, Bircho Birch on drums, Joe Buck, Andy Gibson, and Fritz from Whiskeydick (and others), have released their first full length album "Hymns for Heretics".
The first time I heard Black Eyed Vermillion it made me appreciate Gary Lindsey from a whole different perspective. Yes, the elements of punk and heavy metal are there with Gary's signature rasped, screaming voice, but this album and The Black Eyed Vermillion sound have so much more: deep movements of blues, bluegrass, folk and country, and even swing. If you thought all Gary Lindsey could do was scream and bleed on himself, you will be astonished with the amount of soul and creativity in his music.
This blurb from their MySpace site tells a little about how the band was formed:
"BLACK EYED VERMILLION was originally conceived in the back of a tour bus by Gary Lindsey and Joe Buck of Hank (III's Damn Band) and Assjack. After moving to Austin Texas, Lindsey crossed paths with fellow expatriated Atlantan Stevie Tombstone and Tombstone's bassist (and wife) Killene. Adding the Arkansas madman Bircho Birch on drums formerly of "Trusty" completed the lineup. In 2008, Vermillion and Joe Buck Yourself were on tour in Texas where they played a show with local legends, Whiskey Dick. Everybody got along so well that Fritz and Johnson decided to join up and are now backing B.E.V. for some live shows! Black Eyed Vermillion combines all the elements of roots music (Blues, Swing, Bluegrass) with the dark anger of punk and grindcore. The result is a primal and haunting sound both decadent and reverent. This (Hymns for Heretics) is their debut cd released on 1332 Records."
The CD can be purchased or downloaded on CD Baby, and you can also preview the whole album there.
Black Eyed Vermillion has released a couple of EP's in the past, and unfortunately some of my favorite songs are on those and not this release, including "Box O Pine." But I really like what I've heard so far, and this album really epitomizes the diversity of their style. Track #3 "Hard Time Believin'" is an outright swing song, while #12 "One Foot in the Grave" is a bluegrass tune. There are also a few "interludes," or non-song tracks which I always appreciate in an album. The album finishes up with "Bitter," a song some of you might recognize from Joe Buck.
Once I get a good listen I might offer up a full on review here, but "Hymns for Heretics" is a nice little late summer surprise release that is definitely worth looking in to.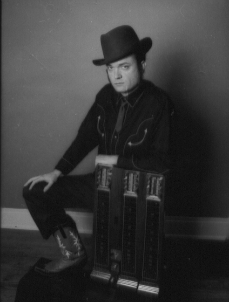 Andy Gibson is a living example of the essence of the modern Outlaw/Underground Country movement; that essence being an undying loyalty and respect for the traditions of country music, while forging new traditions from the enthusiasm of a new generation of REAL country music performers and fans.

As a studio musician, performer, and DIY studio owner, Andy Gibson's impact cannot be understated, and his fingerprints are all over the music that acts as a counterbalance to the overproduced, unimaginative, and all too predictable modern Nashville sound that lacks the authenticity that made country music a relevant modern genre.

The magic of Andy Gibson is his versatility and his willingness to play whatever role is necessary to see that real country music happens.

As a musician, his signature instrument is the non-pedal, stand up steel guitar, and with ease, he can re-create a nostalgic-feeling tune from his legendary mentor Kayton Roberts, then turn around and belt out two breaks of screaming steel while staring at the back of Hank Williams III, and bring a mosh pit full of 20-somethings with tattoos to their knees. Andy also plays the dobro, as well as a little guitar, banjo, and mandolin.

As a performer, Andy Gibson has played and toured with such acts as Wayne "The Train" Hancock and Bob Wayne & The Outlaw Carnies, but possibly his greatest contribution has been to the sound that has made Hank Williams III one of the leaders of the modern Outlaw Country movement. It is hard to imagine Hank III without the twang and wail bleeding and screaming from Andy's Fender Dual Professional on stage right, or stimulating your country soul on recordings such as Smoke & Wine or Stoned & Alone.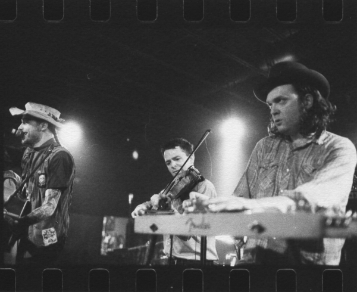 Andy Gibson also runs a studio out of his home, and like a modern day Tompall Glaser, is helping REAL country music musicians record music that it true to the intentions of the songs and artists, and free of the limitations and creative vampires that haunt most modern studios, especially the ones within the influence of Nashville. Artists and bands that Andy has recorded include The .357 String Band, Bob Wayne & The Outlaw Carnies, Black Eyed Vermillion, The Honky Tonk Hustlas, Rachel Brooke, and Moot Davis; not to mention helping Hank Williams III record his album Straight to Hell.

Andy Gibson is an excellent example of why the behind-the-scenes and sideman's impact can never be overlooked. It is hard to envision the Outlaw/Underground country movement having such traction, enthusiasm, grass roots support, and class without the work of one Andy Gibson.

In fact if I had to describe Andy Gibson in one word, that would be it: Class.

---
Some Albums Andy Gibson Performs On or Recorded:

Hank III – Straight to Hell
Hank III – Damn Right, Rebel Proud
. 357 String Band – Fire & Hail
Moot Davis – Already Moved On
Support SCM and start
your Amazon shopping here
Recent Comments